Gyan's Super Goal Silences England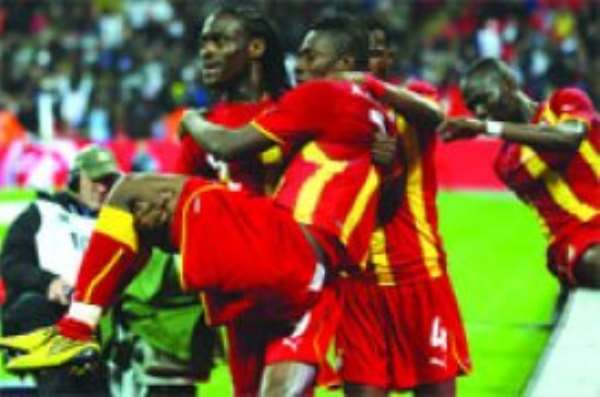 Baby Jet Asamoah Gyan is the toast of his teammates after his excellent equaliser. Photo: courtesy gettyimages
Ghana rose from the dead yesterday but failed to end England's dominance over African teams, but it was Asamoah Gyan who set Wembley alight with a goal of supreme quality as the Black Stars held the Three Lions of England to a 1-1 draw.
The Sunderland striker, who was Ghana's key man in yesterday's historic match, enhanced his reputation with a clinical goal that earned the stars a deserved equaliser and salvaged some pride for the vociferous Ghanaian fans who created an electrifying atmosphere in the iconic stadium throughout the match.
When all seemed lost in time added on, Gyan picked the ball from 20 metres and dribbled his way past his tormentor Jolean Lescott and two other defenders before bending a left footer beyond the reach of goalkeeper Joe Hart who had twice denied Dominic Adiyiah of clear scoring chances.
The rapture reached a high note as Gyan run towards the cheering Ghanaian fans and was joined by his teammates to celebrate the equaliser with his famous dance.
England may have had a greater share of possession and scoring chances in the first half and deservedly took the lead though Liverpool striker Andy Carroll who punished the Ghanaian defence for sloppy marking with a well drilled ground shot past a stranded goalkeeper Richard Kingson.
Dominic Adiyiah squandered a sixth minute scoring chance after shooting straight into the hands of goalkeeper Hart and thereafter it was miss after miss by both sides, with the home side coming worse off, particularly after Ashley Young's shot at goal glanced off the crossbar to let Ghana off the hook.
England dominated midfield exchanges where the experienced Sulley Muntari, Kwadwo Asamoah and Anthony Annan failed to stamp their authority and it was not after the introduction of Derek Boateng in the second half that the Spain-based midfielder brought stability to the Ghanaian game and freed the striker to pile pressure on the Three Lions.
In the latter minutes the Ghanaians began to punch holes in the English backline but the final touch always lacked punch and hardly troubled Fabio Capello's side who were beginning to sense another victory over an African side just minutes away.
However, in a last ditch effort to salvage some pride, Gyan snatched an equaliser from the jaws of defeat with a superb dribble turn that left Lescott, his marker, on the floor before he bent home what could be one of his most memorable goals for Ghana, and let an estimated 20,000 vociferous Ghanaian fans serenading into the night.