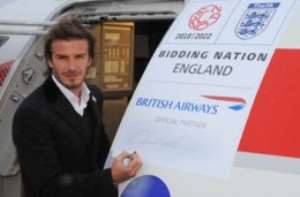 David Beckham was part of England's 2018 World Cup bid team

Football League chairman Lord Mawhinney has said he will want to know why England's World Cup 2018 bid failed to advance beyond the first round of voting.
Fifa president Sepp Blatter made the announcement in Zurich this Thursday afternnon that Russia will host the 2018 event, followed by a confirmation that Qatar will host the 2022 edition of the tournament.
It has since been revealed that England received just two of the 22 executive committee members' votes, knocking them out of the running at the very first hurdle of the secret ballot.
That is despite an encouraging morning, when a presentation led by Prince William, Prime Minister David Cameron and David Beckham was warmly received by delegates.
Lord Mawhinney expressed surprise at England's early elimination from the voting.
"Speaking personally I am genuinely surprised that we were eliminated in the first round so I am going to want to know why," he said.
"Fifa have delivered two bids that they believe to be outstanding to host 2018 and 2022 and the President has said this is a good day for Fifa. He thinks it's a good day for football."
"I personally am surprised - I have so much admiration for how the team worked."
England 2018 bid ambassador Lord Coe has said it is still too early to know where their campaign went wrong.
Lord Coe - who led London's successful bid to host the 2012 Olympics - believes England put together as strong an argument as possible.
"I think it's too early to draw any conclusions over why we lost. We are clearly disappointed and will get a better understanding of what's happened as the days pass by," he said.
"I do congratulate Russia, they are staging the world's greatest football competition in their own back yard and it's up to them now to make it a roaring success."
He added, "we are still trying to get our minds around what has taken place over the last two hours. The campaign was strong, I don't think the team that were here could have done any more than they did.
"The Prime Minister made two trips, the future king of England and the most iconic face in English sport. This was a good camapaign."