NPP makes NDC's 20yrs mistakes in one year - Rawlings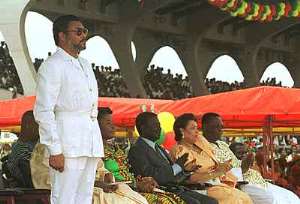 The former President, Jerry John Rawlings, has expressed concern about certain mistakes that his party was accused of having committed which the New Patriotic Party (NPP) has repeated in their two years in power.
"The NPP government has used just a year to make the same mistakes that the (P) NDC made in 20 years," he remarked.
Addressing party members in Koforidua on Wednesday, ex-President Rawlings pointed out that the NDC took pains in building the nation, which was expected to be continued by the NPP, "but the NPP government has turned 180 degrees and is making worse mistakes".
He was in the region to campaign for Professor John Evans Atta Mills to win the presidential primaries of the party, which comes off on December 21, this year.He called on Ghanaians "to say goodbye" to the Kufuor administration by voting him and his stewards out in the next general elections, adding that two years after being in power, there is enough evidence that the NPP cannot do much to save Ghanaians from their economic hardships.
He said God intentionally brought in President Kufuor as a one-time president to teach Ghanaians the difference between good and bad governance and, therefore, called on all to rally behind the NDC to win massively in the 2004 elections "to continue their good deeds".
The former President asked NDC members to demonstrate a sense of humanity to Prof. Mills by giving him their unflinching support to lead the party. He said he has worked with both aspirants, Prof. Atta Mills and Dr Kwesi Botchwey, and, therefore knows which of them will be good for the party.
He added that he is supporting Mills because of his integrity, honesty, hardwork and transparency, adding that Prof. Mills will not lead the party into doom. He said at the moment, the party needs a courageous and honest person to correct the wrongs made in the past, adding that there are so many wrongs going on in the country and that this is the time for them to elect someone who can curtail those wrongs and lead the country to prosperity.
He, however, cautioned that bribing people to win their support is almost the same as taking a gun to stage a coup-d'etat, saying that both are wrong. Ex-President Rawlings cautioned party members to be wary of internal wrangling which, if not checked, will weaken and damage the party.
He said he and his people have not left the country because they want to prove to Ghanaians and the government they have clean hands.Other party members in his entourage included Mr D.S. Boateng, Alhaji Hudu Yahaya, Dr Kumbuoh, Ms Frances Asiam and Mr Tei Tetteh.
They all promised their support for Prof. Atta Mills, saying that since ex-President Rawlings is the founding father, he knows what is right and, therefore, it is right to take his advice.