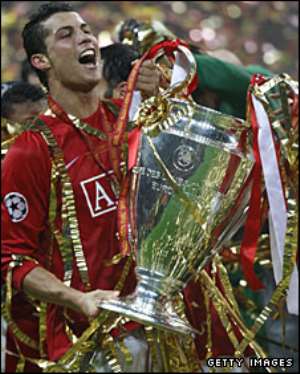 Manchester United legend Sir Bobby Charlton feels the fee for Cristiano Ronaldo's proposed £80m move from Old Trafford to Real Madrid is "vulgar".
Charlton, who scored 249 goals in 758 appearances for United, and is also a director on the club's board, admits the world-record offer shocked him.
"It's a lot of money, it's crazy really," said Charlton.
"If you want to be in the race, you have to pay the price, it seems sometimes a little bit vulgar."
Real have been courting Ronaldo for several seasons and, after several attempts to prize him away from Old Trafford, they are on the verge of finally getting their man.
The two clubs have agreed a deal to take Ronaldo to the Bernabeu, and the European player of the year now just needs to pass a medical and agree personal terms with the Spanish giants.
Charlton admits he is unsure whether it was the right decision to sell the 24-year-old but sees it as a deal that had to be done for the sake of both parties.
"That is business, I'm afraid," Charlton explained.
"We have responsibilities to our company and to all the fans that support Manchester United, and it was decided that Ronaldo could go.
"But it's a little bit soul-searching, you never know if you've made the right decision until the start of the season.
"It's an enormous amount and we will make sure we use it properly and our club will be better for it."
Charlton, 71, who like Ronaldo won the European Cup with United, says that despite the protracted nature of the transfer, there is no animosity at the club towards the Portuguese winger.
"Ronaldo is a great player. He's been with us for five or six years and in that time he has improved beyond all recognition," added Charlton.
"I suppose, in time, he will reflect and say that the best time he ever had in football was when he was at Manchester United. It was better for him and it was fantastic for the club.
"But we have no divine rights, we talked him out of it for one year but he's gone and we move on.
"Ronaldo leaves us because as a young boy he always dreamt about playing for Real Madrid, so if he leaves us, it's with our blessing."