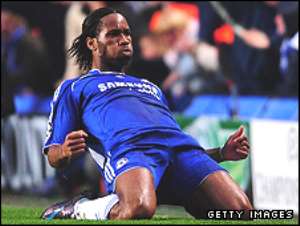 Liverpool and Chelsea will renew their European rivalry
after being drawn together in next month's Champions League quarter-finals.
It is the fifth successive year the two sides have met in Europe, with Chelsea
triumphing in their semi-final in 2008.
Holders Manchester United take on FC Porto and Arsenal play Villarreal, with the
winners meeting in the semi-finals.
Bayern Munich meets Barcelona in the other tie. The first legs are on 7/8 April, and
the return on 14/15 April.
Information gathered by GNA Sports from BBC Sports website indicates that the
second leg of Chelsea's tie with Liverpool at Stamford Bridge will not be on 15 April
after Uefa granted the Merseyside club's request to avoid that date because it is the
20th anniversary of the Hillsborough tragedy.
The semi-finals take place on 28/29 April and 5/6 May and the final will be played
on Wednesday 27 May at the Stadio Olimpico in Rome.
It is the second successive year that four English teams are in the last eight of the
competition.
Although they were beaten by Chelsea last year, Liverpool reached the 2005 and
2007 finals at the expense of the Blues.
As in 2008, the Reds must travel to London for the second leg, but Liverpool
manager Rafa Benitez is confident his side can come out on top this time.
"Hopefully it won't make a difference to us that the second leg is away," Benitez
told his club's website. "We have to think about the first game at Anfield with our fans
behind us and look to get a positive result to take to Stamford Bridge."
Last season's first leg at Anfield ended in a 1-1 draw after John Arne Risse scored
an own goal and Chelsea won the return 3-2 after extra-time.
"We need to make sure we don't make a mistake in the first leg like we did in last
year's semi-final," added Benitez. "They will be two tough games but we are playing
well and clearly we are confident we can win.
"Chelsea are a very good team. We know each other very well and this is an
exciting draw.
"We knew it would be difficult to avoid an English team but we need to approach
the two games with confidence. We've done the double over them this season in the
league but clearly these two games in the quarter-finals will be different."
The draw is also a reunion of sorts for Porto and United.
The Portuguese club beat United on their way to winning the tournament in 2004,
when then Porto boss Jose Mourinho charged up the Old Trafford touchline in delight
after a 90th-minute Costinha goal took them through.
And Arsenal's tie with Villarreal is a rematch of their 2006 semi-final, which the
Gunners won 1-0 on aggregate.
"It is maybe a good opportunity to play the first game away from home, but at
that level it is very difficult to be creative in your statement," said Gunners boss
Wenger. "It will depend on the quality of your performance and the players available
as well.
"We have learned that to knock any Spanish team out is very difficult. There are
many big clubs in Europe who are not in the quarter-finals. We are one of the five
clubs who have for 10 consecutive years qualified for the Champions League, so to
go to the end of it is our immense desire."
The match also sees Villarreal winger Robert Pires line up against his former club,
and the Frenchman said: "Of course it will be a special match. Returning there makes
me very happy but today, as a Villarreal player, I want to win to continue in the
competition with my team."
United beat Chelsea on penalties in last year's final and the draw means another
all-English final remains a possibility.
Reacting to the match-up with Porto, United boss Sir Alex Ferguson said: "This is
a good draw for us. We've met Porto before and obviously we respect any
Portuguese team.
"We have had a huge Portuguese influence in the club, firstly with Carlos Queiroz
but now with Cristiano (Ronaldo) and Nani, so we understand Portuguese football."
United will play the second leg in Porto but Ferguson insists that should not be a
problem.
Bayern Munich's general manager Uli Hoeness was also satisfied with the draw
despite being paired with Barca.
"This is fantastic news," Hoeness said. "As we've been saying all along, if we're to
be drawn against one of the giants, we want the first leg away from home, and that's
what we've got.
"Barcelona at the Allianz Arena in the return is a dream come true for our fans."
The German champions' coach Jurgen Klinsmann added: "Coming face-to-face
with the best team in Europe at the moment is a terrific challenge for us all.
"It's something truly out of the ordinary. Barcelona will be exceptionally tough,
but anything's possible. We believe in ourselves, and there's no need to be overawed."
Barcelona's former Arsenal striker Thierry Henry was relieved to avoid the
Gunners but is wary of the threat Bayern will pose.
"I did not want to play against Arsenal," Henry said.
"The English clubs seemed more dangerous but in football anything can happen
and Bayern is a big team in Europe. They have many players who can make the
difference and score goals.
"It is going to be a very difficult match, they scored a lot of goals in the previous
round, so it is not going to be easy."
Bayern thumped Sporting Lisbon 12-1 on aggregate to reach the quarter-finals.
GNA