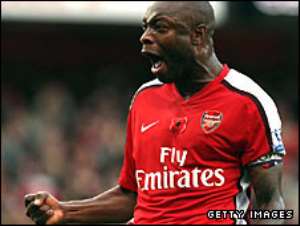 Arsenal defender William Gallas has been stripped of his captaincy role after his public attack on the team, BBC Sport understands.
Gallas, 31, also did not travel on the bus with the squad ahead of Saturday's key game against Manchester City.
In his attack, Gallas said his team-mates were "not brave enough" and accused a player of disrupting morale.
Last season his skills as a captain were questioned as the club failed to win a trophy for a third year running.
Gallas joined Arsenal in September 2006 from Chelsea and was given the captain's armband by Wenger in August 2007.
He was heavily criticised following his petulant reaction to last season's draw with Birmingham.
During the match at St Andrew's in February, Gallas kicked an advertising hoarding and stood in the other half of the pitch as James McFadden scored a last-minute penalty.
The two dropped points reduced Arsenal's then lead at the Premier League summit to two points and many believed Gallas' actions undermined Arsenal's title challenge.
They won just two out of 10 subsequent games as their league and Champions League bids came to an end.
Last month he was criticised by Wenger after he was photographed with a cigarette in his mouth leaving a nightclub last month.
"What William Gallas has done is to undermine his manager Arsene Wenger by making these statements to the public," said former Arsenal defender Nigel Winterburn.
"When Wenger is at training he is a master at observing players. He will know if anything is going on around the training ground and if one or two of the players have fallen out. There is no need for the captain to come out and tell us all."
Following the departures of Mathieu Flamini, Alexander Hleb and Brazilian Gilberto in the summer, Arsenal have struggled for consistency in the Premier League this season.
At home, Wenger's side have been beaten by Hull and Aston Villa and on their travels Arsenal have slipped to defeats at Fulham and Stoke.
After the Stoke defeat Arsene Wenger accused Tony Pulis's side of overly aggressive tactics, condemning Rory Delap and Ryan Shawcross after Theo Walcott and Emmanuel Adebayor were both hurt.
"Wenger will be very, very frustrated. He believes they were very, very close last season to having something special and they just fell away in February," added Winterburn.
"He believes they had a good enough squad to deal this time but they have been inconsistent."
More encouragingly, Arsenal are on course to qualify for the knockout stages of the Champions League and the club's youngsters have won rave reviews for their displays in the Carling Cup wins over Sheffield United and Wigan.
Source: BBC