Hearts Inaugurate New NCC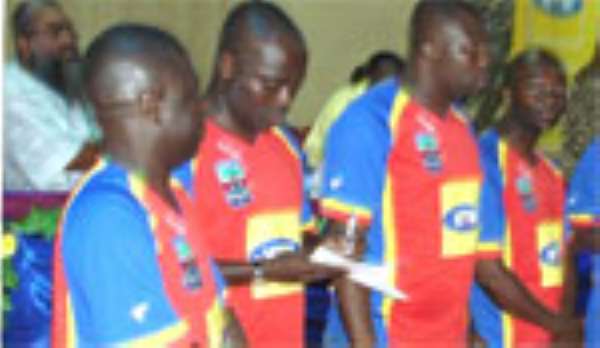 ACCRA HEARTS of Oak's Board of Directors, led by Mr. Commodore Mensah, last Saturday supervised the swearing-in of new members to join the National Chapters Committee (NCC) of the club, elected to run the support wing of the team.
Mr. Neil Armstrong Mutagbe, the out-going NCC Chairman, Mr.Stephen Mawenyenga, Vice Board Chairman, Fawaz Zouk, Board Member and Mr. Commodore Mensah, Board Chairman, attended the ceremony held at Kama House near Labone Junction in Accra.
Accra Hearts of Oak's 15 elected members to the National Chapters Committee, whose purpose is to scrutinize the affairs of the club include Alhaji Akanbi Moro Sulemanu, Chairman; Lawrence Agyare, Vice-Chairman; Eddie Parma Quarshie, General Secretary; E.O. Lamptey, Assistant Secretary; Mohamed Alhassan, Organizer; Suley Mahama and Salisu Muda first and second Deputy Organizers respectively; Kwame Agyepong, Public Relation Officer (PRO); Ishmael Yusifu and Baba Ashai first and second deputy respectively.
Other members were Kennedy Asmah, Gifty Addy, Wofa Yaw Amponsah, Abu Hassan Rhyzo and Aziz Futa.
Neil Armstrong said he has patiently waited to hand over the baton and after the completion of the mandate used to run the NCC for the past 4 years, it is the turn of newly elected members to continue the good work.
"We believe that NCC could have achieved more than what they did, but when we took office we were full of zeal, but I noticed that the club was losing monies from the gate proceeds and the conception of the management by some statements was that we had accused them of stealing money, and when they felt offended, we were compelled to apologize", he disclosed.
He advised the newly elected NCC executives to do all they can to help the management of the club to succeed, adding that he has no doubt that Hearts could finish the season in fourth position to qualify for Top Four competition.
In a message read for him by Mawenyenga, Chairman of the Board of Directors urged the in-coming NCC administration to plan how to support the club.
"Compared to Asante Kotoko, Hearts are nowhere close in terms of commitment and logistics.
"We will like to see the membership rise to expectation. There is the need to build bridges because for the last 8 years Hearts have gone through some difficult times.
The club should move away from only selling players to proper generation of income," he stressed.
According to the Chairman, there will be a series of meetings between the management and the NCC because barely three years from now Hearts will be celebrating its centenary anniversary and members are requested to submit a memorandum.
By Pierre Toto