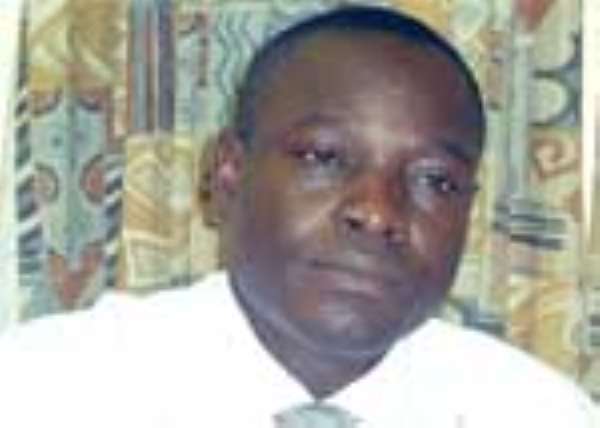 EX-CONVICT, Dr. George Adja Sipa Yankey of the National Democratic Congress (NDC) has been accused of peddling falsehood when he said publicly that the court judgment which sent him to jail five years ago was not written by the presiding judge, the late Justice Dixon Kwame Afreh.
Emmanuel Boadi, the Court Registrar whom Dr Yankey named as his source of information, said he pitied the doctor for telling such a blatant lie.
"It is a big pity and I pity him very much. I pity him and he should not go on doing these things because it would not help him. He is absolutely lying and I am surprised an elderly man like that would be deliberately lying like that.
"When I heard him on radio I said 'ah! Why should he do so?' I am surprised such a man, who is respected in society, would tell such lies," Mr. Boadi stated in an interview with DAILY GUIDE.
Dr. Yankey's contention that the judgment was written by three government officials at the Castle, the seat of government, and that what was read to sentence him was different from what the late Judge had originally written, was woefully floored by the former registrar.
Dr. Yankey, NDC's Spokesperson on Trade and Industry, said Justice Afreh was missing in action at the very time he was expected to be in court to read his judgment.
The NDC bigwig said the information he received from the Court Manager (Court Registrar) was that Justice Afreh had been called to the Castle before he came to read the judgement.
But in a sharp rebuttal to the above effusions, Mr. Boadi told DAILY GUIDE that he had never in his life spoken to Dr. Sipa Yankey or any person on any issue concerning the judgment that was read on the said day and that he was shocked when that allegation was made on the airwaves.
"I want it to be placed on record that the judgment, which was read in court, was written by Justice Afreh and I am aware of this because anytime he writes judgments, he brings it to us to type.
In this particular case it was a long judgment which he brought to us in pieces for typing and it was in his own hand writing, all to the end and as you are typing, you would definitely read and what he read at the court were the very things we typed in the office.
"So if Dr. Yankey is saying it was written from somewhere I am sorry to say that is not true; he is lying", he said.
Responding to a question on whether he had told Dr. Yankey that Justice Afreh went to the Castle on the day the judgment was read, Mr. Boadi said that could not have been possible because Justice Afreh, to the best of his knowledge, had not gone to the Castle.
He explained further: "I have never spoken with any of the accused persons in respect of the ruling of the Judge or on anything. When the trial was going on, I was there as a Registrar and performing my duty, and on no occasion did I speak to them on the ruling.
"I do not speak to accused persons and I have never spoken to Sipa Yankey or any of the accused persons.
"I was not dealing with any of them apart from when they come for court proceedings and that is all. So in connection with the judgment he says was written from the Castle, I do not know about that and I have not spoken to them on that.
"I have never been told that Justice Afreh had been taken to the Castle and I did not see him going to the Castle and I have not told anybody that he had gone to the Castle, never!
"I was even doubling as a Clerk in the court room and it was I and my secretary who typed the judgment that was read by Justice Afreh. He wrote the judgment himself in his own handwriting and any time he finished a page or two he brought it to my secretary for typing.
"It was over a hundred pages so it took us a long time and that was what went on and there were times we even went to work on Saturdays for my secretary to do the typing and the judgment that was read was the very judgment that we typed so if Dr. Sipa Yankey thinks that it was written from the Castle I am very surprised."
Dr. Yankey, former Head of Legal Division at the Ministry of Finance, was on April 28, 2003 sentenced to two years in prison along with the former Minister of Food and Agriculture, Ibrahim Adams while Mr. Kwame Peprah, former Minister of Finance and Economic Planning was sentenced for four years.
They were charged with conspiracy to and causing financial loss of $20 million to the State in the handling of a rice project at Aveyime in the Volta Region.
Dr. Yankey last Tuesday told Joy FM that "the judgment that Justice Afreh read was not his judgment."
According to him, the day he was supposed to be giving judgment, Justice Afreh was called to the Castle and that he was away for several hours.
He contended that when the Judge came back, one could see that he was haggard, hungry-looking, tired and that he told the court that 'yes I promised to give you a long ruling but I have changed my mind. I am going to give a short ruling.'
In a related development, Lawyer Egbert Faibille, Managing Editor of the Ghanaian Observer on Wednesday alleged that Dr. Yankey at a point had agreed to become a prosecuting witness in the case as a deal to earn his freedom and that a meeting to discuss that arrangement took place at a private residence at North Kaneshie in Accra.
Dr. Yankey, in a response, admitted attending a meeting at the North Kaneshie residence of Mr. Victor Newman, a stalwart of the New Patriotic Party (NPP), and that the Deputy Attorney General at the time, Madam Gloria Akufo, was also in attendance.
Dr. Yankey said what happened was that he was asked to implicate former President Jerry John Rawlings in the court case but because he failed to acquiesce to that request, the North Kaneshie meetings did not continue.
By Halifax Ansah-Addo