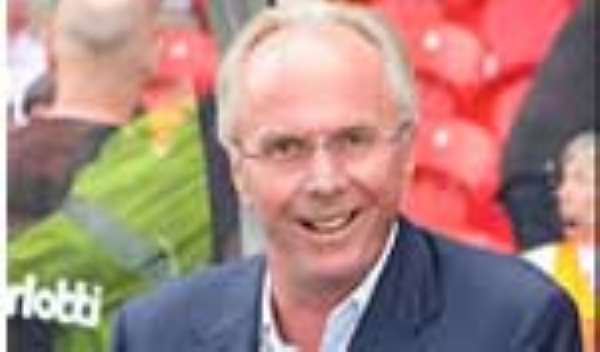 Sven-Goran Eriksson has been told he will be sacked as Manchester City manager at the end of the season.
City owner Thaksin Shinawatra told Eriksson he was "not the right man for the job" at a meeting on Sunday, a source close to the manager said.
Eriksson informed the players at training on Monday that he would be dismissed, provoking an angry response.
The Swede, who has two years left on his contract, says he will not resign.
Shinawatra has been unhappy with City's results since the turn of the year.
The Thai billionaire was at the City of Manchester Stadium on Sunday to watch his team throw away a 2-0 lead to lose 3-2 against Fulham.
Afterwards, he held a meeting with Eriksson and told him he would be dismissed after their final two games of the season.

"Sven reacted calmly, as usual, but he was very surprised and disappointed," the source told BBC Sport.
"He doesn't want to leave the club and will not resign. He loves working with the players and his work at Manchester City has only just begun."
City confirmed that Eriksson would be in charge for the final two games of the season, away at Liverpool and Middlesbrough, but made no comment about what would happen in the summer.
Eriksson's assistant, Tord Grip, told Swedish newspaper Aftonbladet that he expected them to leave City at the end of the season.
"We will be here for the two last matches. They probably think that we haven't done a good enough job", said Grip.
"Sven will receive new offers soon I'm sure."
Eriksson took over as City manager five weeks before the start of the season and the team occupied third spot in the Premiership in November.
However, their form has faltered badly since Christmas and they now lie ninth, having won just four of their last 15 games.
"The team has not been playing as well as it should have or getting the right results since Christmas," said the source.
"But overall it has been a good season. Thaksin agreed a five-year plan with Sven in the summer and the target for the first year was to finish in the top 10."
Shinawatra bankrolled eight summer signings at a cost of more than £46m shortly after buying the club, but he has had no direct contact with Eriksson in the second half of the season.
"They met several times personally at the start of the season and then nothing," said the source.