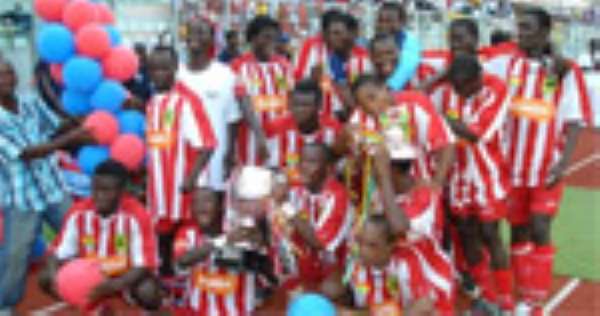 DRAMA UNFOLDED when the entire line-up of Ashantigold FC left the field of play in protest of a penalty awarded to Asante Kotoko by Referee William Agbovi during yesterday's SWAG Cup match played at the Baba Yara Stadium in Kumasi.
The untoward act, known in local parlance as 'Yembo biom', which occurred in the 44th minute, was orchestrated by Kofi Manu aka 'Blue Boy' and it halted proceedings for almost five minutes.
It took the intervention of Kojo Fianu, the CEO of Ashantigold, to get the furious Asantigold players to continue with the game.
Finally when calm was restored, Francis Coffie perfectly slotted home the penalty to push Kotoko even with Ashantigold who had earlier taken a solitary lead.
In a game which saw a lot of midfield action, the Porcupine Warriors, playing in front of their loyal supporters, had to fight from behind to snatch a late 2-1 to win the SWAG Cup.
Ashantigold who had the lion's share of possession switched play from defence to attack beautifully and shot into the lead on 29 minutes via a perfect volley from Alex Asamoah.
Then on, Kotoko lifted up their game and their efforts yielded dividend when Skipper Ossei Kufuor was fouled in the Ashantigold's vital area for a penalty which was beautifully connected home by Francis Coffie.
After the break, Francis Coffie made sure that Kotoko won the trophy when his 82nd minute thunderbolt zoomed into the yawning net to bring the final scores to 2-1 in favour of Kotoko.
At the end of the game Kotoko were presented with a magnificent Silver Trophy amidst fanfare.
From Fred J.A. Ibrahim Jnr., Kumasi.