Essien Admits Mourinho Link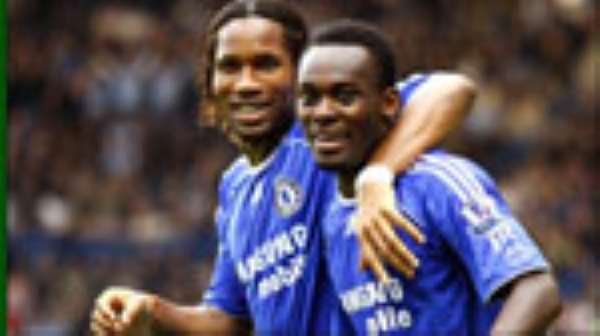 GHANAIAN midfielder, Michael Essien has revealed he still has a good relationship with former Chelsea boss, Jose Mourinho.
It was the Portuguese mentor who lured Essien to Stamford Bridge for a hefty £26 million from Lyon in 2005 - the highest fee paid for an African transfer.
And the 25-year-old who is also the club's second most expensive transfer, admitted he is still in contact with Mourinho.
Essien told The Sun: "He was the person who put his faith in me and did a lot for me. We stay in touch though we don't talk about football that much.
"He's a good man who does not forget people he cares about and he sends good luck texts before games.
"I expect he'll send one before the Liverpool game".
The admission has sparked reports and fears that should the former Porto boss take the hot-seat at a European powerhouse, Essien will follow suit.
Meanwhile, if rumours of Didier Drogba's imminent departure from Stamford Bridge are to be believed, then the Chelsea forward seems intent on leaving the club on high note by clinching both the Premier League and Champions League titles.
Chelsea have performed consistently well in both competitions since Avram Grant replaced Jose Mourinho in September, and have overhauled both Arsenal and Liverpool in the race for the league title.
The Ivoirien has endured a hitherto frustrating campaign, but seems to have hit a purple patch of form as the Pensioners set about catching Manchester United on the domestic front and defeating Liverpool in the Champions League semi-final.
Chelsea play with a resolute obduracy under the Israeli, and that stubbornness may help the club to continue their quest for titles on two fronts.
The intensity of their performances and their workmanlike consistency have led them on a march to the precipice of success, from an admittedly underwhelming start.
Drogba is optimistic that his team-mates have the credentials and ability to keep the pressure on United until the potentially crucial Stamford Bridge showdown at the turn of the month.
In Europe also, Drogba is sure that their tenacity will provide the ammunition to out-gun their Liverpool counterparts.
Drogba told This Is London: "The most important thing is to win the Premier League or Champions League, and I think we have a good chance to do both, even if it isn't going to be easy.
"Manchester United will not give up their lead easily, and for sure Liverpool will rest some players because they are just playing to finish fourth.
"We are trying to fight for the title. It's more exciting when you have a lot of intensity in each competition."