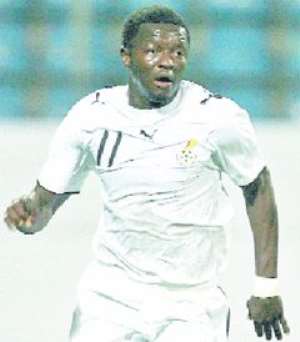 The agonising story of an armed robbery attack on his father has forced Black Stars midfielder, Sulley Ali Muntari, to fly into town unceremoniously from his Portsmouth base in the United Kingdom.
Usually a strong character, Muntari broke down in tears as he saw his badly-hurt father in medical plasters after surviving the attack that cost him cash, jewellery and mobile phones.

"My sons decided to tell him (Sulley Muntari) after a Ghana friendly Wednesday, and he was so shaken that he flew home the very next day. He wept when he saw me," Alhaji Sulley Muntari said on his recovery bed.

The savage act on Muntari's father, happened almost simultaneously with the Portsmouth player's involvement in Ghana's 2-1 loss to Mexico at Fulham's Craven Cottage Park in a friendly last Wednesday.

Moments after hearing the news, Muntari flew over to Accra to be by his father's side, and was consequently excused from club assignment at the weekend for Portsmouth.

Indeed, with calls from club manager, Harry Redknapp, Portsmouth showed solidarity with their £11 million prized purchase from Udinese in Italy.

"His coach has shown great concern. He's also called to ask how I am getting on.

"I want to thank Mr Redknapp because he has shown me that he doesn't only care about football, but also about family," the injured Alhaji Muntari said.

According to media reports, the attack by the thugs, reportedly wielding AK 47 rifles and baseball bats, left the senior Muntari with head injuries and a broken arm after they succeeded in bolting with his belongings in the car raid as he returned from a visit to Nigeria.

"Blood was flowing from my head like water and I thought I was going to die.

"I am surprised it has taken me so soon to recover because of the amount of blood I lost", he said.

In a candid expression about how fame could have a negative effect, he said: "My son is worried robbers will target me because they think I have money through Sulley."