FA Runs Around CAF For A Fix?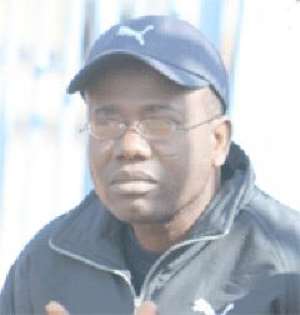 The Ghana Football Association (GFA) has secretly sent an emissary to CAF's headquarters in Egypt to convince the continent's governing body to reinstate the country in the newly introduced African Nations Championship.
The GFA has been under intense fire after the country was excluded from the draw of the tournament meant for home-based players.

But GhanasoCernet sources have revealed that GFA boss, Kwasi Nyantakyi, and his board members who are highly connected with CAF's top hierarchy, have sent secret a envoy to hold talks to ensure that Ghana is recalled to play in the qualifiers.

The source within CAF told Ghanasoccernet:"I will not be surprised if Ghana is speedily reinstated after the envoy meets with the top CAF officials because of the GFA's connections at the top.

"Nyantakyi and his board members are well connected within CAF and I am sure that the envoy will succeed because they have been busily working the phones since this issue came up.

"Ghana's case will be strengthened by the fact that many other countries could not also register, and they could also be considered.

"I can tell you that the Ghana FA members are very worried about this and its consequences for the country's football. Don't also forget the backlash from the vibrant Ghanaian media and public."

Meanwhile, the GFA has set up an independent three-man committee to investigate why Ghana failed to register for the competition, with the sacking of the culprit on the cards.

This was revealed after Ghalca, the body representing clubs in Ghana, summoned the top hierarchy of the GFA to an emergency meeting on Tuesday to discuss the issue.

Ghalca boss Emmanuel Adotey said: "It was clear after our meeting that someone did not do his/her work properly.
"Now we have agreed that the matter should be investigated by an independent body for us to get to the bottom of the matter before any action is taken.

"If CAF is at fault we will protest strongly, but if someone at the GFA is responsible, the person will pay dearly."

The new tournament is a continental showcase like the Africa Cup of Nations, the difference being that only local-based players are eligible, providing local clubs and players the chance to showcase their talents to the world.

Ghana's absence is a huge blow to clubs and players in the country who were hoping to use the tournament to expose their players as the main Black Stars team has been dominated by foreign-based players.

Story by Maurice Quansah