Stretcher Cars For Ghana 2008 Withdrawn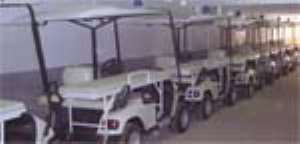 Information reaching DAILY GUIDE SPORTS indicates that the Local Organizing Committee (LOC) of Ghana 2008 has blatantly refused to honour the understanding between them and K. Badu Agro Chemicals Company Limited (K.Badu Agro), importers of the electronic stretcher cars being used to convey injured players from the field of play.
In view of this stalemate, the owners had decided to entirely withhold the facilities until the LOC makes a commitment in writing to specify whether they are buying the facility or renting it.
According to the Public Relations Manager of K. Badu Agro, Williams Owusu Amponsah, the understanding between the two parties was that the LOC would purchase the facility after its importation into the country and use it for the Cup of Nations.
The PRO said the LOC as a result of their understanding was supposed to pay GH¢ 13,500 or ¢135 million for each of the eight stretcher cars of which two would be used at each of the four match venues.
He alleged that after the arrival of the facility, the LOC told them that it was too late to finalize any negotiations and that they were going to use the stretcher cars for the tournament while negotiations were formalized.
He said during the deliberations between his outfit and the LOC, it was Mr. Magnus Rex Danquah and Andy Sam, both in Charge of Operations at the LOC, who fronted for the organizers.
Mr. Amponsah stressed that during one of such deliberations, the Deputy Minister of Education and Sports, O.B. Amoah and the personalities from the LOC stated above, vehemently stated that they were going to buy the facility.
When Mr. Sam, Deputy Operations Officer of the LOC was contacted, he admitted knowledge of the importer but said, "I only introduced them to the LOC and was not involved in the negotiations."
In his reactions, Rex Danquah, Chief Operations Officer of the LOC disclosed: "K. Badu Company was not the only organization that offered us such a facility before the tournament but we refused all offers because according to our Medical Committee, the hand-held stretcher is better than the stretcher car.
"Moreover, why will we purchase an item that we would not use for a long period? So we advised that they should rather contact the National Sports Council or GFA because they may need it for long term purposes."By Patrick Ampong-Baidoo