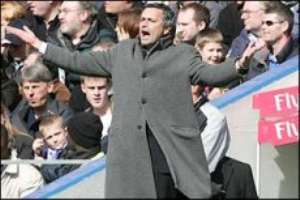 Chelsea manager Jose Mourinho paid tribute to match winner, Michael Essien after a last-gasp victory at Valencia sealed a Champions League semi-final spot.
The versatile Ghana international raided forward from right-back to drive home a dramatic clincher in the Mestalla, having been moved from his more customary midfield berth at half-time.
Mourinho said after the win: "We made a tactical change by putting Essien at right-back.
"He is offensive and powerful in that position and Joe Cole and Andriy Shevchenko helped us to create more two-on-one situations.
"Essien is a special player. He is an athlete. He can run forever. He could play a game every day. He is a superb athlete.
"When we lost him a month ago it was a big, big loss, but he was ready to come back for this crucial game.
"I know he is suspended for the next game but this one was the crucial one. The next one is not crucial."