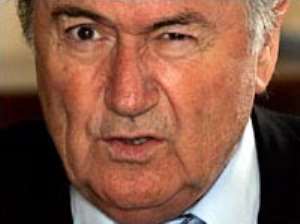 Fifa president Sepp Blatter believes that radical change is required in football following recent outbursts of on-field violence.A brawl between Arsenal and Chelsea in the Carling Cup final was followed by ugly scenes after the Valencia versus Inter Milan Champions League tie.
"We have come to a crossroads, our football is ill," said Blatter.
"Where is football leading if players are now at each others' throats? We must act."
And Blatter has promised action, pledging: "We will raise this at Fifa's next congress.
"What will people think if they see on TV these pictures of major football matches?"
Blatter suggested that the desire to make money in domestic football had become too important.
"I see more and more financial interests over-riding people, in club football especially," he added.
"Even rich countries - they are not capable of providing safe and comfortable stadia and I see that violence is everywhere, including inside the stadia.
"When you see what happened recently in big stadia, in the Millennium Stadium in Cardiff, when highly-paid players got involved in fights, which was nothing compared to what we saw later in Valencia.
"There are many other examples I could mention."
Chelsea beat Arsenal 2-1 to win the Carling Cup but a brawl towards the end of the match resulted in red three cards.
Valencia defeated Inter Milan in a bad-tempered and ugly scenes afterwards included a punch from Valencia's David Navarro that broke the nose of Inter's Nicolas Burdisso.
Meanwhile, Blatter made it clear that the 2012 World Cup will take place in South Africa as scheduled.
"The executive committee is now convinced South Africa will be a good host for the 2010 World Cup," he said.
"At our last meeting in December there were queries, hesitations, even doubts expressed by some members of the executive committee.
"Today, they all stood united behind South Africa and we are happy overall."