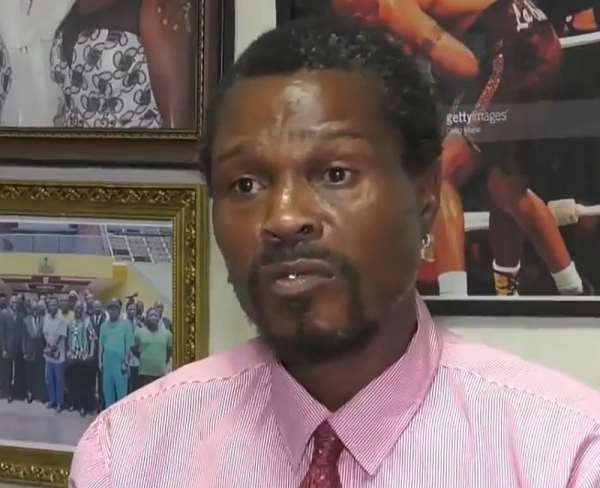 Ike 'Bazooka' Quartey
Former World Boxing Association (WBA) welterweight titlist, Ike 'Bazooka' Quartey has reacted to media publications about his recent looks compared to his youthful days.
Responding to suggestions in some media publications that he was on drugs hence his recent looks, Ike Quartey said, "No I don't do that, and I will never do that."
"I'm not a drug addict," he said in a television interview with Metro TV, monitored by Graphic Online.

"I am not happy at all about the publicity at all. You know, I will ask my lawyer to sue this media which published this news because it is a bad news."
"You know if somebody has brought you some news, you have to call me, ask me, or proofread or do something before publishing it."
"Without telling anybody, like they want to bring my name down or spoiling my name but this name I made it long time. I use my life to make this name."

"I will sue anybody who is involved. From here I'm going to see my lawyer, we gonna sue anybody who is involved. People were calling me 'Ike, Ike,' are you a drug addict? I'm not a drug addict, I'm a celebrity of this nation, why are you putting this on my name," he fumed in the TV interview.
"I don't do that and I'm not gonna do that too because I love my children, I love my wife too. I have businesses taking care of why drugs," he added.

Ike Quartey said he was concentrating on his businesses and was committed to building a dream hospital for the nation.
"I am trying to do something for the nation and now look at what you are trying to do to my name."
In a separate interview with Joy Sports published on Myjoyonline, Ike Quartey also disagreed with suggestions on social media that his present state was the opposite of the Ike Quartey of many years ago.
"I don't do drugs. I don't do that. Since I retired I have been focusing on my family and my businesses."
"By the Grace of God I am very comfortable and working on my hospital project. The fact that I decided to grow my hair does not mean I am on drugs. I am also growing and cannot look the same as I looked previously," he said.

Ike Quartey's issue came up following the publication of a picture of the 51-year-old on social media that depicts his current look compared to his youthful days.