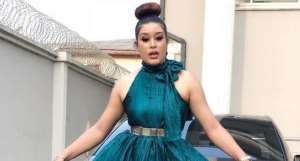 Nollywood actress, Adunni Ade, stuns as a wedding guest with this enthralling outfit. She rocks the alter neck style in a flaired gown looking all glamorous.
When it comes to fashion, Adunni has so ensured that she creates time at going to some nice fashion stores around the country to stock up her wardrobe and she knows how to dress to kill.
Being a single mum, she is putting in her best not to be carried away by hard work as she also sees that her two boys are always happy and growing to make her proud.