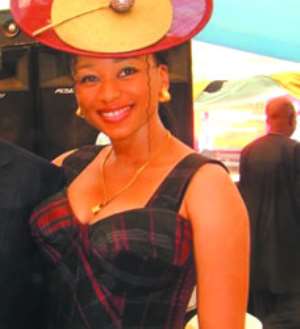 Nena Kalu Ogba
Nigerian fashion industry is dynamic compared to what it used to be some years back. Now Nigerian fashion designers can compare favourably with their counterparts abroad in almost all ramifications.
Nena Kalu Ogba is one of such Nigerian designers who have uplifted the industry by creating a label just like they have abroad. Her label, Nena Kal Hunters, incorporates almost all fashion items from clothes to hats and handbags.
What informed your label?
This brand is clothing informed and interior brand, which incorporate hats. Though, I am well known for making hats but that is not the only thing I studied in the university. I studied fashion design at Demon fort University, UK and basically learnt how to make bras, knickers, bridal wears, and evening wears, children's wears, sports and swimsuits. In addition, I learnt how to make handbags, belts and jewellery. They are produced in China.
Making hats was not actually what I intended to do when I came back to Nigeria, but I made one hat when I was coming back to Nigeria, wore it to a wedding and got 30 orders. This is how I got stocked in the business of making hats. Actually, my intention is to build proper brands like you have abroad such as Next, Mango, Mark and Spencer and all that. Now, I also want to begin to do handbags, T-shirts and home décor stuff. In all, I am trying to build a visionary lifestyle brand, a brand that will survive even after I die.
How did you also start the throw pillows?
The throw pillows business started after I designed my house. People saw it and liked it and demanded to how I went about it. I did not plan it. It just happened, but now it has become a business.
Can you comfortably answer jack of trades?
Yes, I am jack of all trades and a master of all.
Where do you source your raw materials?
I get them from America and Brazil and they are custom made.
Is there any local input?
The only local input is the stitching and the labour.
What type of bags are we expecting from you?
I am doing fabric, synthetic and leather handbags, but the real leather collection will come out in January next year.
What will the leather bags look like?
I will do big bags for the leather.
How are your handbags different from other brands?
The paints that I use are the things that women believe in. For instance, lipstick. There are other ones that have encouraging words for girls such as chick babe, funky girl, pretty babe and different types of high heels. Another thing that distinguishes us is the fabric. The fabric company is no longer producing this fabric, so it is like a vintage fabric.
Who is your target group?
Initially, my intention was to target the bag for young women between the ages of 18 and about 35, but I noticed that even old women are buying. That is fashion for you now. These days, age has nothing to do with it.
As a designer, how tasking is it to produce across the age groups?
I have been travelling around the world and there is something I really noticed. I went to a clothes shop in UK and America and find out that children and adults are wearing the same fashion these days. So, I think everyone is wearing the same thing but miniature version for the kids and bigger version for the adults.
Do you have a factory?
It is a mini factory at the back of my house.
How do you distribute your products?
I sell them online.
Do you intend to get a shop?
Yes, I am actually trying to get a store now so that we can incorporate everything Nena Kal Hunters produces. That will make it easy for people to shop.
Do you hope to go into mass production?
Yes, I do mass production because that is the only way you can make money.
As a fashion designer, what is the place of bag in dressing up?
Basically for ladies, a handbag is a necessity. You cannot do without a handbag because a lady without a handbag is incomplete. In all the fashion accessories, bag comes first because you chuckle in all your necessities such as cheque book, money, make-up, phone card and so on, inside the bag. So, you cannot really do without a handbag unless you want to carry a nylon bag.
What inspires you in your designs?
I am inspired by colours, lines and shapes, for instance if you want to design a hat the first thing that comes to mind is the shape. I am one person that does not like very loud decorations on my product. I like to keep it simple, but I like things that are defined.
How did you come about your brand name, Nena Kal Hunters?
This is my favourite question. My name is Nena and my surname is Kalu Ogba. Ogba means hunter and my great grandfather used to be a hunter. So, I just turned it around and funckified the whole thing and people like it.
What was growing up like?
I went to Shell Camp Primary School, Owerri and an Anglican Seminary Secondary School in Umuahia. When we there we prayed like seven times a day and it was serious. We were not allowed to wear make-up but the whole thing was fun. I learnt a lot there. There was discipline. I can boldly say that the discipline that I have now is what I got from there. It makes much sense.
When you were growing up, did you intend to be a designer?
I have always wanted to be a designer. I started making clothes when I was nine years old. I bought a fabric for N1.50k, made it and sold it for N30 to a junior lawyer who was working in my father's chambers. My father bought me a sowing machine when I was nine years old.
Do you have your parents support?
Yes, my parents are my backbone. They have supported me both financially and morally. They tell everybody about my achievements. My mum is my major marketer and my parents ensure that they buy every new product that I made and keep it.
Have you had any challenges?
I have had many challenges more especially financially. In Nigeria it is not very easy to get loan from the banks. Even when they give you they expect you to pay a lot of collateral. It is ridiculous. With this type of attitude, we cannot grow in this country. I have been working with my money and it has not been easy.
What type of jewellery do you wear?
I like baby fat because it blinks. In other words, I like glamorous jewellery.
What about shoes?
I love shoes a lot.
What kind of clothes do you wear?
I wear anything. I wear high street fashion and I am not crazy about label.