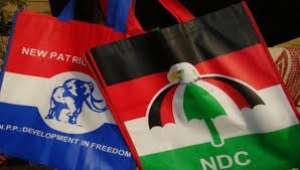 The globe is currently confronted with an unforeseen and unseen enemy presenting itself in the form of a biological weapon reeking death and economic havoc of cataclysmic apogee which the world has never ever seen.
Nations with the best economies and top-notched medical systems have literally crumbled under mercilessly rampaging destructive power of this enemy called Covid-19 pandemic.
This, therefore, presents citizens of nations of the global south, with Ghana in focus, with weak economies and notoriously rudimentary health delivery systems, to pull together to ward off such an enemy.
But for selfish partisanship, efforts being made by the government are rather being poopooed by characters who, ironically, were given the opportunity but raided the state coffers and ran the wheels of the economy aground. And sadly, such destructive elements are often urged on by the media.
John Mahama, someone under whose watch a primitive bacterial ailment like cholera actually infected over 100,000 Ghanaians with over 2000 fatalities, is today, and without providing a scintilla of cost breakdown and where the funding was going to come from; demanded that Government provided the following for the vulnerable in society to help them cope with socioeconomic effects arising from the lockdown necessitated by Covid-19:
1. Isolation centre in every town and village equipped ventilators
2. Free water
3. Free electricity
4. Free accommodation
5. Free food
6. Free contraceptives
7. Free husbands
8. Free wives
9. Free toiletries
10. Free transport
In all these totally outlandish shots-from-the-hip from the sidelines, the media never questioned John Mahama to provide source of funding, how feasible and whether the strength of our economy can withstand same.
Again, this is the same John Mahama that superintended four solid years of dumsor and created a Ghanaian nouvelle coronavirus virus entity called UNEMPLOYED GRADUATES ASSOCIATION.
But Nana Addo Dankwa Akufo-Addo, the man currently in the driving-seat and ably managing the affairs of State in these times of unprecedented global crisis of cataclysmic apocalyptic magnitude, comes up with a policy to massively revamp our health delivery system by adding 88 new district hospitals, and the narrative by the media is "where is the source of funding".
This is precisely the posture the Ghanaian media took, in respect of FREE SHS POLICY but it has been successfully rolled out and millions of Ghanaian youth who would've otherwise been left out of educational loop due to financial constraints on their parents, are proud benefiaries of the national cake.
Indeed, there is one thing I've noticed about the Ghanaian media: holding NPP to extremely high level of accountability but always letting ndc off-the-hook.
This trajectory throws out two possible scenarios:
1. it is either the media doesn't mean well for our dear country, or,
2. lacks the foresight to appreciate progress.
THE GHANAIAN MEDIA CERTAINLY LACKS FOCUS BECAUSE IT IS POPULATED BY CHARACTERS WHO ARE SO LAZY TO READ IN ORDER TO UPGRADE THEIR INTELLECTUAL CAPACITY, BUT RATHER TAKE DELIGHT IN EMPTY NOISE FROM DAWN TO DUSK.
BY Newton-Offei Justice Abeeku
email: [email protected]