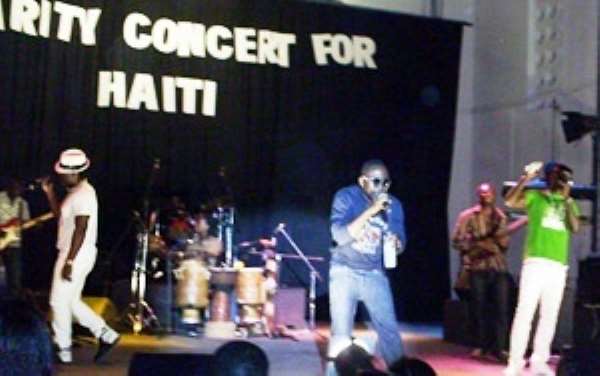 The deadly coronavirus pandemic has put the world in a state of arrant distress. The alarming rise in the rate of contractions and deaths have made coronavirus, otherwise known as Covid-19, too great to be ignored.
As a current worldwide public health emergency, the President of the Republic of Ghana, His Excellency Nana Addo Dankwa Akufo-Addo declared a partial lockdown in the cities of Accra, Tema and Kumasi on March 15, when he addressed the nation. The lockdown has affected everything in the country. It has halted a number of businesses. Churches and schools have been closed down, too.
As antidote to coronavirus is not found yet, there continues to be a great deal of uncertainty as to what influence it will have on the country's music industry. This is because, the coronavirus pandemic has caused mass cancellations of concerts and tours globally. Concert venues in the country have been shutdown. Tour buses are also parked. This development is affecting musicians and the many accompanying staff in the music industry.
Many musicians – Shatta Wale, Stonebwoy, Sarkodie, Fameye, among others have cancelled their gigs. The ban on concert halls, clubs, pubs and other social venues and mass gatherings in the country is part of a larger strategy directed by the President to suppress the spread of the coronavirus pandemic. It is, therefore, obvious that many fans of these musicians will get disappointed while at home. The fans need something special to help combat the boredom of quarantine and self-isolation.
It is on this note that Ghanaian musicians must be creative by taking to the many digitally interactive platforms to share a connection with their fans during this period of Covid-19. At this juncture, let me hasten to congratulate Shatta Wale and Edem for taking the bold step in initiating virtual performance in Ghana. Other musicians in the country must follow suit.
We are in a difficult times. However, it is better the musicians bring the concert halls into the home of their fans than not doing anything pending the cure for coronavirus. Coronavirus pandemic has sparked worldwide live streams and virtual concerts.
Ghanaian musicians must take advantage of this situation and make "online" the "concert venues" for the fans. There are many online interactive platforms such as Facebook, YouTube, Instagram, Twitter, and many others to entertain and educate the fans. This will be a one-of-a-kind experience as the fans and Ghanaians in general, are spending more time at home now.
Of course, live streaming is not the new itch as it has been happening in Europe and America. But here in Ghana, until Edem hosted one last Sunday, live streaming has not been a significant alternative to live music by the musicians in the country.
Live music, as an art form, must indeed be experienced live in concert halls. From stage configuration at the concert hall to lighting and special effects to the natural acoustics amid performer-audience-intimacy lends credence to what's called "the wow factor".
Anything short from that will be a poignant spectacle. Temporarily, adopting live streaming performances will have its challenges, but will have implications for the future beyond the coronavirus pandemic. For the musicians, especially, underground artistes, it will create a new bond between them and a wide fan base.
True and impossible to disagree with, everyone is sitting home now in coronavirus self-isolation; nonetheless, that does not mean fans cannot be entertained. Coronavirus must not stop the musicians from performing to the fans online. The fans have been with the musicians for many years. This is the time for the musicians to also show their true love to them.
A performance for half an hour from their homes or studios, either playing with a band or the musicians themselves strumming songs from their guitar, piano, saxophone, or any other instrument to share some musical joy and some music with the fans during these trying times will be a delight to watch. It will be a great entertainment to Ghanaians as we all go through this coronavirus pandemic.
Additionally, it is also a major platform to use their talent – music, as tool for social development. Historical records have proven the potency of music. Vladimir Visotsky, a Russian songwriter, actor and poet, with his artistic voice through power-challenging music helped bring down Russia's Soviet Union in 1991.
This is the time for Ghanaian musicians to also use their musical voice in helping fight the war against coronavirus. They have been lamenting against successive governments' inability to formalize the music industry. This is the time for Ghanaian musicians to prove their worth to the nation beyond their personal aggrandizement.
In Europe and US, several musicians are working assiduously by providing online alternatives to gigs and concerts that have now been cancelled as a result of coronavirus.
A mover and shaker in the US music industry, Jay-Z together with his wife, Beyoncé and 21 Savage have launch an online concert series called "At Home With Tidal" to entertain and educate their massive fan base against the pandemic.
On humanitarian level, Elton John and iHeart are also throwing a benefit concert for coronavirus relief. The project, christened "the iHeart Living Room Concert for America" will help raise funds through online platforms for America's organisations, Feeding America and First Responders Children's Foundation.
The online concert will feature A-list celebrities encompassing Alicia Keys and Mariah Carey.
This is what Ghanaian musicians must be planning to do to get the much needed attention of the government to their plight.
Amid this coronavirus pandemic, the artistes can use their online platforms to stream regular live mini gigs or piano-dien performance to one-off shows, to entertain and at the same time, educate viewers with directives from the Ghana Health Service and the Ministry of Health such as "stay home", "wash your hands", "use hand sanitizer frequently" and also help promote awareness for the need to keep a social distance.
Business wise, moving their cancelled performances, tours from the concert hall to the living room of Ghanaians will be creative way by which the musicians can monetise their performances on online platforms such as Facebook, YouTube, twitter, and instagram. With this, profit will depend heavily on the number of viewers, upload and download of videos, amount of advertising, among other deals.
The basic infrastructure needed for live streaming is almost available in every home. Many homes have access to smartphones, iPads, laptops, among other consumer-level products.
Obviously, what's left is the consumer having access to high-speed internet with minimal lag. This way, the musicians can strike a partnership deal with the telecommunication companies in the country. The traditional media, television stations, can also be a commercially viable market for them.
As not a means of thanking God for coronavirus pandemic, it is virtually important for Ghanaian musicians to take advantage of the vacuum created. It must be an imperative for the musicians to go virtual or online to entertain and educate their fans, and Ghanaians in general.
We are not in normal times!
The writer is with the Centre for National Culture, Kumasi.
He is a Creative Arts Director, Playwright & Critic
Email: [email protected]