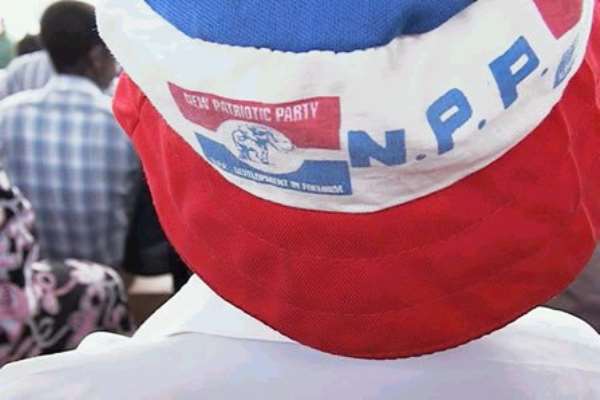 Observer One is my name. You can call me "O-One", and I stand for the good of all. Yeah, as my name indicates, I sniff around with keen interest in matters of interest. And in this writeup, my lens is still hovering on the Okaikoi Central Constituency. Now that you known I am using a lens, you can only conjecture, if you find yourself implicated, that maybe my lens was cracked, or covered in dust, or better still that I'm using some old dilapidated lens. Whichever way you see it or take it, I, Observer One (aka O-One) can only be truthful to my own conscience. #ToGodAndCountry!
In my previous write-up I stated emphatically that Nii Kometey has no cause to worry about his disqualification, and that he has nothing to lose, unlike the other. And I still stand strong and firmly convinced that Nii Kometey can turn Okaikoi Central NPP upside down.
I am told that there's a certain caveat in the nomination form that makes aspirants sign an undertaking to the effect that they shall not go independent. I really believe that this is an apt concoction meant to intimidate and create fear in those who genuinely qualify for the primaries but may not be the choice of "powers that be". This is absolutely true because, in the event when one feels unwelcomed in the party because of how he or she is treated just like the ill treatment being meted out to Nii Kometey, one may go radical and attempt independent. NPP, do you really mean this? I really can't think far …like Fmr. President Mahama would say. (Yeah, I really have to let you know that I have a very sweet message for Fmr. President Mahama and his party, the NDC. Watch this space for it. The trouble that awaits them for dubiously boycotting just about anything including…)
Back to the substantive issue: Why do I say Nii Kometey is being ill-treated? And I am talking about a young man with a beautiful soul who have served the NPP party with every little bit of him since completion of senior secondary school. I am talking about a very humble gentleman who, with his little resources have helped and continue to help party folks when there's supposed to be an MP who must fight for the wellbeing of the very ones who braved their lives to bring him to the seat. Anyway. But come to think of it; If I were a card-bearing member, all there is for me to do is to relinquish my membership and that's it! I am the one who loses. Everything I have done and given to the party would be gone. So who loses if I decide that I no longer want to associate myself with the party when I am treated like an outcast. Considering the fact that exit is as voluntary as inclusion, any such requirement to sign an undertaking would mean nothing to me than a threat to terminate my life if I so attempt to go independent. Really? Well, that's my belief. Okay, if that's not the case let someone give me an explanation to the actual need for that provision in the nomination forms for aspiring candidates in NPP. I really can't see any reasonable basis for that undertaking. So for me, as I see it, "Sign this undertaking because you chose to pick the forms. And if you care to know, we won't prevent you from picking the forms - BUT IS IN OUR POWER TO ALLOW YOU OR NOT! WE DETERMINE WHO IS WHO IN THIS PARTY!" And as I hear them say it: "Just be prepared for anything. You can call it rough tactics, raw deal, sidelining, shear wickedness and so on and so forth, that's our back case! It's up to you!"
Well, it seems I missed something so my thinking, for all this while, has been that the Appeals Committee was to determine the course of these needless disqualification. But I have discovered that the procedure enjoins the appeals committee to submit its findings to NEC. Meaning that whatever the appeals committee discovers will guide the decision of NEC on the disqualifications. "Frankly speaking, it is these very structures, coupled with our firm belief that the appeals committee involves people of impeccable integrity that we have remained calm. Remarks a ward chairman during one of their weekly meetings.
"The decision of the National Parliamentary Appeals Committee on the petition so submitted to it shall be communicated to the National Executive Committee through the General Secretary. The decision of the National Executive Committee on the matter shall be final."
The above statement in quotation is point number 30 of what appears to be NPP's bylaws for this year's parliamentary primaries. Now, a very reliable source from the constituency reveals to me what may have transpired at the appeals last week. According to him, "it seems they don't want any contest for Boamah". Per my investigation. My respondent laments, "if that is what the party really wants, they should be bold enough to come and dialogue with us but not to appear to be presenting an opportunity for everyone when they already have their plans." "Why would they do that to frustrate interested and qualified persons." He continued.
I did indicate and warned that the vetting committee must be careful not to write anything different from what transpired at the vetting. I am sending this message to them that they should call Nii Kometey and apologise to him for what they did.
According to the vetting Committee, Okaikwei Central party executives unanimously said they do not know Nii Kometey. I, O One, I believe the rumour that the whole process was stage-managed have everything to be true. Just look at this scenario: you enter a vetting room, you take your seat, and the first words that greets you go like:
You are Mr. Corona Virus?
Yes, Mr. Chairman
Yes, you applied to be considered as an aspirant, is that correct?
Yes, Mr. Chairman
Mr. Corona Virus, I suppose you've been suspended by the New Patriotic Party before, true or false?
That is true.
When was that?
My dear reader, this as you read is the exact reception which Mr. Corona Virus met at his vetting. I'm talking about Nii Kometey anyway.
Since the days when Fmr. President Kufuor ascended to power, I have watched and seen countless vetting proceedings. Even the ones which had majority of its panel being members of opposition never ever attacked a vettee with such grave impunity, arrogance and shear disrespect. This line of questioning, even if you're not present would get you asking questions. And I dare say, that the dialogue suggests a very vicious vendetta. I can assure you that every discerning person who come across this dialogue would not struggle at all to see this as something with a predetermined outcome. And this, of course can happen when a person or a people are compromised. Period!
For your information, my dear reader, it is this same suspension which is being used to suppress Nii Kometey's chances. I implore all of you to take a look at NPP's constitution and find out what it says about suspension and membership rights. Truth be told, the real trouble is that Nii Kometey's successful entry into this race is the beginning of the end of Boamah's unpleasant cruise.
Nii Kometey served his definite suspension, per the suspension letter written to him, a 12 months period spanning the whole of year 2018, during which his dues payment was not suspended except for a few membership rights. This is a worthwhile argument: First, that an official communique is served a member informing him of re-instatement when the suspension is indefinite. Second, is when the suspender decides to lift a definite suspension being served or served halfway through. In the absence of these, when a suspension which have a definite period clearly stated is served, IT IS SERVED! I say this because we are being told that since no one has written to Nii Kometey that his suspension is over, he is ineligible to contest in the primaries. Question is: where is the astuteness that's said to be so abundant in NPP? For Christ's sake, whose logic is that? For me I think that this definitely points to the situation where the compromised is in a tight corner! What at all can they use to disqualify Nii Kometey so that Patrick Boamah can have his way and go unopposed.
Well, now the ball has finally reached the strikers. I mean the National Executive Committee. WE ARE WATCHING! But I cannot leave it at that without a warning: The ball from Okaikoi Central which is peacefully lying at the penalty spot presents us with two for a choice. The black or coloured spots on the ball are a raging chaos, but the uncoloured or plain white spots on the ball speaks of calm, peace and tranquil. NEC, the great news is this: for this penalty kick, there is absolutely no goalkeeper in the goalpost. Goalkeeper-free penalty… amazing! But that's what the rules of this particular game says and no one should be allowed to change that rule. Much more so when the match is already played except for this needless penalty shoot that must be taken anyway. I, Observer One urge you to allow grey-headedness to prevail.
As I continue to sniff around, one thing that has become obvious and consistent is the bleak tyrannical oppression and fear that is at play in the constituency. I was baffled at how delegates and party members are dreading victimisation and attacks if they dare show support for their new and preferred aspirant in the person of Nii Kometey Tetteh.
There have been cases of brutal attacks on delegates all because they believe that the only way for them to feel the essence of their party being in power, will be for them to change hands. Very unfortunately, there are unfavourable reasons why you won't be surprised that the said brutal attacks have been extended to one very faithful party card-bearing woman in her fifties. Today she's been silenced by the torturous experience because she just can't bare the embarrassment of haven been manhandled by her own party folks …her "traditional" party. A party she has toiled and sacrificed her little income for in the name of party dues. Like many others, the joy of belonging to the great Osono Party is history. Now and the future? No! It is a mere day-dream and foolish man's fantasy. People's businesses have suffered and are still struggling to recover because they "stupidly" used their little precious time to campaign for Boamah. Today he is able to look into one such person's eye and tell him "don't sit in my car", when he's supposed to be part of a team of party delegate on assignment.
I would like to conclude but not limited to this exposé by saying and urging NPP NEC to bring their ears to the grounds a bit. If you take things for granted, the once peaceful almost stronghold of NPP will be swept from under your foot.
I personally believe that wise words are never enough for the prudent. He always thirsts for more. I know you are one such prudent and so keep watching this space for more of these exposés.
Thank you. O-One is my name.