Esther Cobbah Becomes A Fellow Of IPR Ghana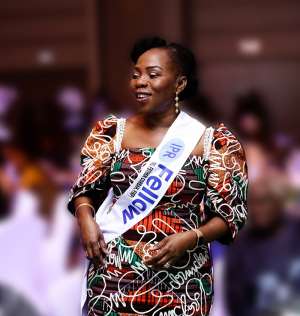 Stratcomm Africa CEO has been made a Fellow of the Institute of Public Relations Ghana at the 8th National PR and Communications Excellence Awards held on 29th February 2020 at the Labadi Beach Hotel Accra.
She was among eight professionals on whom a Fellowship was conferred for their contributions to the PR industry in Ghana.
Ms. Cobbah, established Strategic Communications Africa Ltd, Stratcomm Africa 25 years ago and has evolved it from a study desk to a multi-award-winning organization. This was after 13 years of working with various organizations for all of which she established communication departments.
The Board Chairman of Stratcomm Africa Professor S.K. Adjepong says, "We are definitely proud of Esther's achievements and are pleased with the recognition from the Institute of Public Relations Ghana. We have no doubt that her work will continue to impact positively the communications industry in Ghana and abroad."
About Esther Cobbah
Esther is the Chief Executive Officer of Strategic Communications Africa Ltd (Stratcomm Africa). An old girl of Wesley Girls High School, Cape Coast, Esther obtained her first degree at the University of Ghana, Legon, and further earned graduate degrees in Communications from the School of Communications Studies, the University of Ghana and Cornell University, Ithaca, New York, U.S.A.
Esther has extensive experience working with public and private sector organisations as well as communities and individuals in Ghana and beyond. She has a keen understanding of the value of effective communication processes for national development, organizational growth and individual livelihood enhancement and she is constantly exploring effective communications strategies to promote innovation and social behavior change. She has won numerous local and international awards for her work in business and the communication industry.
About Stratcomm Africa
Stratcomm Africa is a total Communication, Agency with offerings in Public Relations and Reputation Management, Digital Media Management, Advertising and Marketing, Event Management, Communication for Development (C4D) and Communication Research. Stratcomm Africa also offers training in communication and other soft skills as well as business advisory services. Stratcomm Africa specializes in evolving and implementing communications strategies for individuals and organizations, public and private, local and international and has over the past 25 years been providing this service to numerous organizations.
Stratcomm Africa has over the years gained both local and international recognition for its excellent delivery in communications and as a business. These include the International Public Relations Association (IPRA) United Nations (UN) award for Public Relations (PR) and Sustainable Development 2016, the Institute of Public Relations (IPR) PR Consultancy of the Year (2013 & 2014), PR Consultancy of the Year (Extractive and Manufacturing respectively) (2013), Association of Ghanaian Industries (AGI) Business Promotion Consultancy of the Year (2013), Ghana Club 100 2014, 2015, 2016, CSR Initiative of the Year and Professional Services Company of the Year (2017) from the Ghana National Chamber of Commerce and Industry (GNCCI).