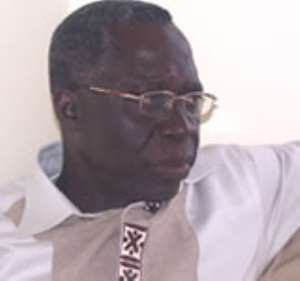 Two former Ministers who were dropped in President John Agyekum Kufuor's recent cabinet reshuffle were commended by mourners in Tamale for their sense of maturity in politics.
The mourners were full of praise for Mr. Yaw Osafo-Maafo, former Minister of Education and Sports and Dr Kofi Konadu Apraku, former Minister of Regional Co-operation and NEPAD, when they attended the funeral of Alhaji Abdul-Raman Salifu, the Northern Regional Chairman of the NPP, in Tamale on Sunday.
Mr Osafo-Maafo who was in a traditional mourning cloth received cheers from the mourners when he alighted from his car. He was ushered round amidst drumming and dancing.
Many were those who could not believe that after the reshuffle, the two stalwarts could still be so loyal and committed to the NPP and the President.
The impact of the reshuffle was felt when the two NPP Presidential aspirants were missing from the dais where President Kufuor and Vice-President Aliu Mahama were seated.
Mr Osafo-Maafo and Dr Apraku sat together and were seen chatting.
Dr Kwabena Frimpong Boateng, the Chief Executive of the Korle-Bu Teaching Hospital and one of the Presidential aspirants of the NPP, donated cash and drinks to the bereaved family.
Dr Frimpong Boateng, who was in a smock, felt at home with the northern tradition as he received handshakes from his admirers.
Mr George Alhassan, a former player of Accra Hearts of Oak and the Black Stars, told the GNA that the presence of Mr Osafo-Maafo and Dr Apraku showed that there was unity in the NPP.
"The two are still committed to the growth of the party. Indeed, they know what politics is all about", he said.
Mr Imoro Yahaya, an NPP sympathizer, said the removal of the two Ministers did not mean they had fallen out with the NPP.
"This is the time we expect them to render more service to the party to enable it to win the 2008 polls," he said.