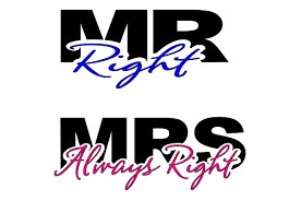 Who is that Mr Right every lady is looking for?
Is he at the right where no one is left, or at the left where no one is right?
Could he be found in books or he only comes at night?
Some say he's a man with goals without even though he hasn't played any match.
Some say he's not a person but he's the perfect match.
If he's not a person, why then waste time to search for him?
Why not stay modest, trust God and wait with vim?
Growing up, I thought he was popular so I wanted to see that person;
I've grown to realize that the distinction between Mr Right and the Right Man is a burden.
I know God gives a woman as a gift to man.
That is why Eve didn't go the extra mile to win Adam.
Eve didn't read about Mr Right from any book, or learn different ways to cook.
She didn't spend loads of money at the saloon, or learn different sex positions to win any tycoon.
Adam knew she was a gift from above so he was thankful.
Truth is, in His time, He'll honour His word because He is faithful.
Now the irony, women of today dress to show they are worth having,
Forgetting they ain't suppose to draw men to themselves but to the father in heaven.
The media constantly teach us how to win the affection of a man,
But all those lessons only tell us to act a certain way to win a man.
The bell never rings for change lesson but those lessons keep changing
Hence, it's hard to get the best way, though people are still trying.
It appears getting a good man is difficult than getting a visa,
This fallacy is not only to the woman, I mean it's vice versa.
We shouldn't stress out much but see ourselves as the prize.
Like a race, the prize attracts many runners, but only the winner gets the prize.
Your value must attract the one who's capable.
Not anyone who appears as a runner or is just available.
Take notice of the man who deserves you because prizes are earned.
Not the ones who give many signals and leave you confused.
Know that prizes don't compete but runners do,
So don't be in a competition but just be good.
See, Mr Right is a picture every lady dreams of,
But the Right Man is the man God approves of.
Don't chase someone who don't know but know your worth as God's brand.
Cos you can add many to your worldly value but they can't win you a husband.
Instead of being worldly, be Godly, then you'll begin to shine and sell your brand.
Instead of waiting for Mr Right, wait for God's time,that's the Right Man.
Cos in His Holy book, in Isaiah 60:22, it is written;
"When the time is right, I, the Lord, will make it happen."
Thank you.
CONTACT: [email protected]