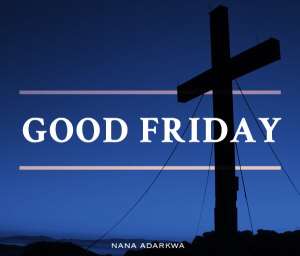 What makes that Friday Good?
Are we right to call it good?
Or we are just being too rude?
These are questions that we seldom answer,
Cos we seem oblivious to the purpose of Easter.
What makes that Friday Good?
Is it cos people set their minds free?
Or it's the pre-Easter shopping spree?
Maybe we see people moving here and there,
And parties that show we don't even care.
What makes that Friday Good?
It's an occasion about Christ but what do we see?
We see increase in sin but how can this be?"
Without taking few minutes for a mournful watch;
And reflect on Christ so we can light His torch.
What makes that Friday Good?
Do we respect His cross or because it was made of wood?
The question still remains what makes Good Friday eternally good?
What's so good about the death of an innocent man?
No wonder this was God's own plan.
What makes that Friday Good?
If the purpose is Salvation why do we choose to be odd?
Have we forgotten He's the only begotten Son of God?
We should focus on that old rugged cross,
As the symbol of gain not a symbol of loss.
What makes that Friday Good?
Have we thought of His pain?
Or because He will rise again!
See, for us, Jesus gave His last breath,
So Good Friday is good, because of His death.
Are we now convinced to call it 'Good'?
Yes, because we could be cleared of our guilt,
And be redeemed by the blood that was spilt.
Let's not mourn but celebrate the death of the Lamb,
For His sacrifice makes Him the 'Great I AM'.
So on Good Friday, Christ paid the price,
That moment when He said Tetelestai.
And gave us Sunday: the Resurrection-tide!
I will forever vouch for 'Jesus Till I Die'.
Because He forever remains my Pride.