Akufo-Addo Is Fully Clothed, Trust Me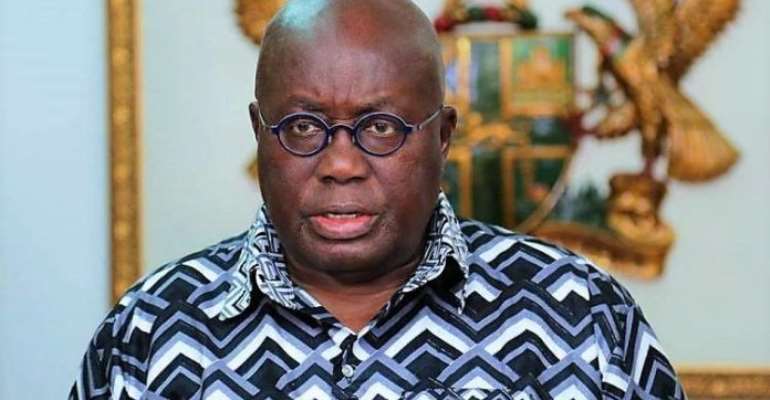 It may be morally and politically unsettling, but it is absolutely unsurprising at all, because the rank and rancid stench and state of corruption in the country defy definition and/or ready categorization along political party lines. Besides, this seemingly intractable stench of corruption has been brewing since long before anybody dead or alive can remember. It is a raw and primal stench. All that matters presently is how Nana Addo Dankwa Akufo-Addo decides to tackle the massive and seismic fallout from the reportedly missing 500 excavators that were seized by the Anti-Galamsey Task Force not very long ago (See "Missing Excavators: Akufo-Addo Is 'Naked' – Legal Practitioner" 3News.com / Ghanaweb.com 2/8/20).
For starters, it was quite clear from the beginning that a remarkable percentage of those recruited and/or commissioned into the Anti-Galamsey Task Force were apt to betray and/or disappoint the President somewhere down the pike; after all, absolutely none of the previous governments before the current Akufo-Addo-led government of the New Patriotic Party (NPP) had put together any coherent, as well as cohesive, and comprehensive program or agenda to vigorously tackle this wantonly and environmentally destructive activity. We even had the now-Candidate John Dramani Mahama, recently trounced at the polls by Nana Akufo-Addo, lead the charge of those illegal-mining predators who were dead-set against the otherwise savvy and salutary ban on Galamsey, on the vacuous grounds that these veritable nation-wreckers had absolutely no other economic recourse or alternative to the wanton destruction of the country's forestry resources and waterbodies.
So right from the get-go, as New Yorkers are wont to say, the metaphorical deck was literally stacked against the former Attorney-General and Minister of Justice. In the case of the former President, who had smugly presided over four-and-half years of Dumsor, erratic energy supply, he had even haughtily faulted Ghanaian private entrepreneurs whose businesses had been effectively collapsed by Dumsor for not being savvy enough to be able to "creatively" work around the erratic schedule of Dumsor. Obviously, "Little Dramani" was deathly afraid of being handily outperformed by a far more talented, visionary and experienced leader which fear, by the way, proved accurate in absolutely no time at all. Actually, in just a little over a couple of years at the helm of our national affairs.
But what is even more significant to note here is the fact that as bona fide Ghanaian citizens, members, supporters and sympathizers of either major political party, we do not live in two separate worlds; rather, we are each and every one of us directly and indirectly impacted by whichever government or political party happens to be at Jubilee House and Parliament House. There are absolutely no discrete political or ideological colorations here. This is what all Ghanaians, irrespective of political and/or ideological orientation need to bear in mind even as we head towards the polling booth in early December this year.
Yes, we need to draw up the balance sheet and decide the fact of whether we will be better off keeping our present Chief Resident of Jubilee House for the next four years, or trade off the latter for the second return of the one who grossly incompetently plunged our entire nation into stygian darkness for an unprecedented single tenure of a protracted four years and six months, and who introduced "Dumsor" into the global Urban Dictionary. Our very hardworking and talented nurse- and teacher-trainees and our equally talented but long-neglected youths from poverty-stricken homes in dire need of ready access to well-equipped academic and vocational training institutions and their parents and guardians, most especially, need to bear the timely social-intervention programs and facilities in the frontal lobes of their brains as they head to the polling booth come December 7, 2020 or thereabouts.
By Kwame Okoampa-Ahoofe, Jr., PhD
English Department, SUNY-Nassau
Garden City, New York
February 8, 2020
E-mail: [email protected]
*Visit my blog at: kwameokoampaahoofe.wordpress.com Ghanaffairs