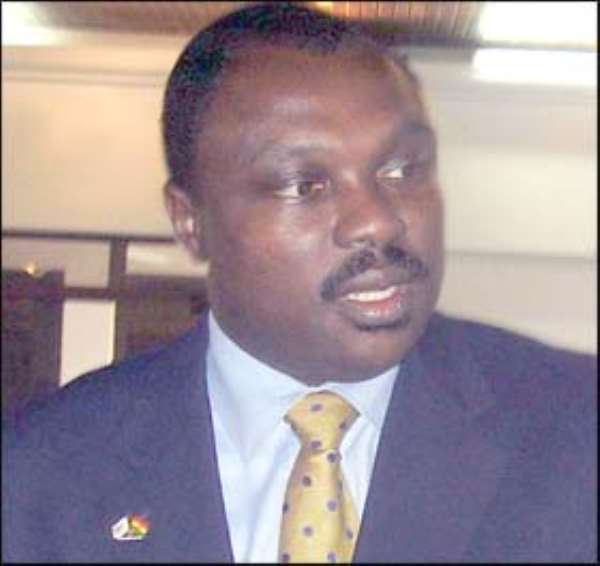 Ahomka Lindsay
On Monday, 6 January 2020, a popular Ghanaian residing in the United Kingdom, London to be precise, phoned me up asking why the Deputy Minister for Trade and Industry, Ahomka Lindsay (Hon), is girding up to contest the Kumawu constituency parliamentary seat on the ticket of NPP at election 2020? He told me Mr Ahomka Lindsay is from Cape Coast with both his parents being natives of Cape Coast. Therefore, he does not understand why he is desirously aspiring to become a Member of Parliament for Kumawu constituency but not Cape Coast.
As he was the first person to break the news to me, I told him I was not aware of it but would investigate and get back to him. Hanging up the phone, I immediately contacted a very reliable person in Kumawu to verify whether or not Mr Ahomka Lindsay is gearing up to wrest the seat from the incumbent NPP Member of Parliament for the constituency come the NPP parliamentary primaries. My contact person told me as follows. "Mr Lindsay claims his father is from Kumawu-Ananangya. During former President Kufuor's time, Mr Ahomka Lindsay came to Kumawu-Bodomase and assured them that he would come and build a factory at Kumawu-Bodomase. Subsequently, the chief of Kumawu-Bodomase allotted to him a large piece of land intended for the factory. Years down the line, no factory came. However, he came back to construct his own residential building on the land. He does not even live in it".
I got back to the gentleman in London with the above information. He said, there are some top NPP members allegedly including the Minister for Trade and Industry, Alan Kwadwo Kyeremateng (Hon) and one insatiably greedy octogenarian from Kumawu who are goading him to contest for the seat. "You people must be very careful because experience has taught the people of my own Kwabre district a bitter lesson. We once had a northerner who does not come from our district appointed as the District Chief Executive for the district. He diverted almost all the developments meant for our area to his hometown in the Northern region. Will Mr Lindsay, a foreigner to Kumawu constituency not do same by redirecting his efforts to channel developments that could come to Kumawu constituency to Cape Coast, the place of his birth", he said.
Readers, let's take a short walk down the memory lane. In Dr Kwame Nkrumah's CPP government of the late 1950s and mid-1960s, Kumawu constituency was contested, won and represented by Krobo Edusei (Hon). Krobo was not from Kumawu but for the purpose of being able to stand for the parliamentary seat, he joined one of the Kumawu families. When he won the seat, he did a lot for Kumawu. He brought the Kumawu Tweneboa Kodua Secondary School. He brought electricity and potable pipe-borne water to Kumawu and its environs.
Note, in those days, the parliamentarians were although corrupt, they were not as stinkingly corrupt as the modern day Ghana politicians. This is the fear many people have when a stranger is today coming to stand for Kumawu, otherwise, there is a precedent where a stranger stood for Kumawu seat. There is also a precedent where a stranger had diverted the developments for the district he represented to his hometown far away from the district. Where do we then draw the line on Ahomka Lindsay (Hon)?
Could we say he is a liar come to dupe the people of Kumawu? A land was demarcated for him to build a factory but he has used it to build his own house, it is alleged. He has not paid for the land. The land was not meant for, or not meant only for, his personal residential house but a factory. By putting the land to a different use, has he not duped the people of Kumawuman if what my contact person in Kumawu told me is nothing but the absolute truth?
The Ghana constitution permits anyone living in a place for two to five years, to be able to, and capable of, contesting for the parliamentary seat of the constituency where he/she lives, or, has his/her residential house, I should think. However, will Ahomka Lindsay (Hon) be a credible representative for Kumawu constituency concluding from his failure to build the promised factory, usage of the land earmarked for the purported factory and externally, his utter disrespect for Ghanaians in diaspora. If he could boldly shamelessly insult his once fellow Ghanaian "burgers" as whiners, what/where is the guarantee that he will respect the constituents of Kumawu constituency were he to be elected as a Member of Parliament for the constituency come 7 December 2020? Check the video below.
Those eligible to elect the parliamentary candidate for Kumawu constituency at the NPP primaries scheduled for April 2020, must think twice before casting their vote for Mr Ahomka Lindsay. They should not be induced by any bribe which is but for a short enjoyment only to be quickly replaced by misery, to vote for stranger Ahomka.
Some people may ask, but what have the MPs from Kumawu constituency ever done for us, especially the sitting one? What a good and credible question! On the current MP, he may not have done anything or much. However, if you help somebody to climb upwards, then remove the aid-stool from underneath them, how do you expect them to climb down or act? Again, there is an Akan adage that goes, "You have stuffed my mouth with stinky roasted salt fish, if I open my mouth, you accuse me of having a foul or noisome mouth" (Wa toto m3m3ne ahye ma num, me bie ma nnum a wo se ma nnum b3n". This is exactly the situation in which the current MP finds himself.
Some of the very people from Kumawu who are supportive of Ahomka Lindsay are the very people that have vilifyingly been painting the current MP darker to His Excellency Nana Addo Dankwa Akufo-Addo since year 2012 until now. This is a fact of which I personally bear witness. Their malicious actions are militating against any useful attempts by the MP to lobby for developments for Kumawu constituency, I should think. These same people turn around to inform the constituents that the MP is doing nothing for the constituency. These two-face people are not only dangerous but are greedy bastards who only always seek their self-serving interests.
For the attention of Ahomka, you are one of those types of persons who after helping them to climb the ladder, on reaching the top, they turn around to look at those standing underneath the ladder with scorn. Those who helped him are now simply nobodies because they are far below him. If that was not the case, Ahomka who was once a Ghanaian burger in London, would never treat his fellow Ghanaian "burgers" (diasporans) with complete disrespect when he landed in government.
If he were that intelligent, and knowing that time is always not on the side of the Ghanaian diasporans when they do come home on holiday, himself and his government would ensure that enforceable laws able to help the "burgers" achieve their genuine objectives, and are also punitive to those swindling them, are in place. Without that, how can the government get any positive response from them when they are invited to come home to invest their hard-earned foreign currency on intent of building the Ghana economy?
I will personally never vote for such an arrogant, uncouth and politically-unwise person irrespective of his level of education and money.
At general elections, the Ghanaian politician will come to you with a bowl in hand soliciting alms and begging for your vote. Once you help them financially and/or with your vote and they get elected, they then see you as a piece of paper not worthy of cleansing their arse with. Ahomka typifies this disgusting mentality of the Ghana politician.
I rest my case but I will not hesitate to come back to hit him harder if he dares me! For how long will outsiders continue to undermine and underestimate the intelligence of Kumawuman citizens? For how long will Kumawuman citizens sit on the fence for their patience to be taxed by outsiders?
Rockson Adofo
Saturday, 11 January 20120