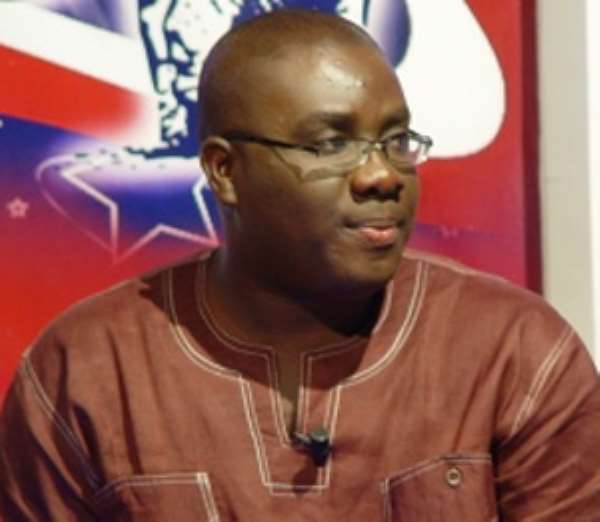 Sammy Awuku
At a Student Representatives' Council (SRC) Awards Week and Entertainment Night at the Akuapem-Mampong Presbyterian Senior High School, in the Eastern Region, recently, the National Organizer of the ruling New Patriotic Party NPP), Mr. Sammy Awuku, was reported to have admonished the students to "forget about writing love letters in the name of falling in love" in order not to be distracted from their studies and future success" (See "Sammy Awuku Warns Students Over 'Love Letters'" BestNews.com / Ghanaweb.com 12/3/19). This is the same hortatory pabulum that my generation of high school students received from my late father's generation of adults and state officials in the 1970s and 80s. It does not promote healthy living among our youths; but I am not the least bit surprised, because the country's rote-learning neocolonialist educational system has not significantly changed. Hopefully, with the paradigmatic redesigning of our public-school curriculum, a more constructive and enlightened approach to forging loving and romantic relationships would be made available to our youths.
As I read this brief news item, I could not help but think about the controversial Counsellor Lutterodt. You see, we need to open up our minds and expand the practical parameters of our moral and social values, if today's Ghanaian youths are to be able to effectively relate with their peers and associates both in the academic sphere and the broader society at large, as well as be able to forge healthy and balanced relationships and live meaningful lives and comfortable livelihoods. It goes without saying that the emotional development of our youths of today and the leaders of tomorrow is as important as their overall intellectual and cultural development. Indeed, it was because of the perennial and systematic regression of the emotional and psychological development and cultural enrichment of our youths that I vehemently protested the recent unfortunate decision by the government to put the Comprehensive Sexuality Education (CSE) of our public school pupils and students on ice, at least until the government had been able to drum up enough public support, and in order not to eviscerate the government's chances of retaining the mandate of the electorate in the 2020 general election.
In the age of globalization and massive cross-ethnic, cross-racial and cross-cultural marriages, it cannot be gainsaid that it is imperative for Ghanaian parents and leaders to nurture our youths in ways that will ensure their capacity and capability of holding their own against their peers and associates in any part of the world. Indeed, if any ingredient in the quality of our lives as a people may be deemed or be envisaged to be woefully lacking in Ghanaian society, it is definitely interpersonal love. We simply lack adequate self-love, which is also why a remarkable percentage of Ghanaian leaders are so self-centered, morbidly acquisitive and flagrantly unpatriotic. I can readily recall several instances, including one that involved yours truly, in elementary and middle school where students caught writing love letters to their girlfriends in both the same school and outside were brought to the front of the entire school body and crassly and unwisely humiliated by teachers and headteachers and savagely administered a dozen or more strokes or lashes with the willow cane.
In nearly every one of these instances, as the Counsellor Lutterodts of this world would tell you, Dear Reader, immense psychological trauma was inflicted on the victims. Very likely, many of these unconscionably and sadistically humiliated and physically abused and victimized love-letter writers grew up to become adult-male misogynists, and may very well have been driven from the natural urge of being able to forge healthy relationships with members of the opposite sex and/or gender. For many Ghanaian adults of today, we need to put in place a healing process of emotional and psychological rehabilitation. This is what our politicians and statesmen and stateswomen ought to be talking about, especially in the face of the high incidence of unhealthy relationships and broken marriages and, in the latter's wake, broken homes.
*Visit my blog at: kwameokoampaahoofe.wordpress.com Ghanaffairs
By Kwame Okoampa-Ahoofe, Jr., PhD
English Department, SUNY-Nassau
Garden City, New York
December 4, 2019
E-mail: [email protected]