Kufuor to pay state visit to US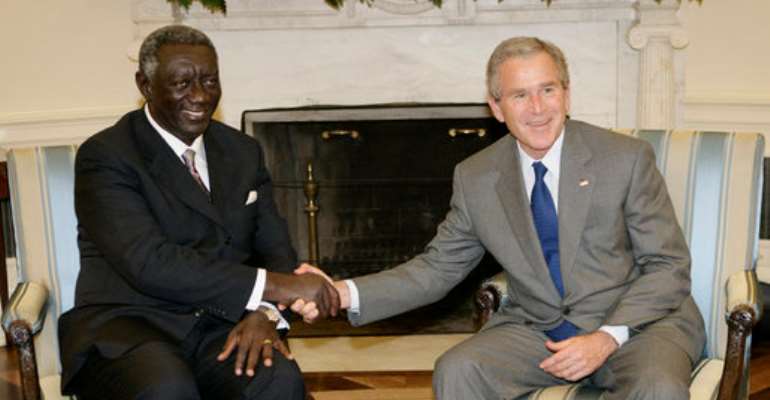 Accra, March 30, GNA - President John Agyekum Kufuor would pay a state visit to the United States (US) from April 11 to April 13 2006 at the invitation of President George Bush, Press Secretary, Mr Kwabena Agyepong, has announced. Mr Agyepong told a Castle press briefing on Thursday that the two leaders would confer at the White House on April 12 and their discussions would centre on bilateral matters including the Millennium Challenge Account (MCA) and the African Growth and Opportunities Act (AGOA).
Ghana's role as a non-permanent member of the United Nations (UN) Security Council and issues concerning regional security would also feature during the meeting.
President Kufuor, he said, had signed into law three Bills. These are the Minerals and Mining Act; Millennium Challenge Account Authority (MCAA) Act and the Customs, Excise and Preventive Service (CEPS) Amendment Act.
He said the President's assent of the MCAA Act would pave the way for the establishment of the Millennium Development Authority to manage the funds from the MCA.
Ghana is expected to receive about 500 million dollars from the Account, which would be used to modernise the country's agriculture. Nine districts in four regions would benefit from the account.