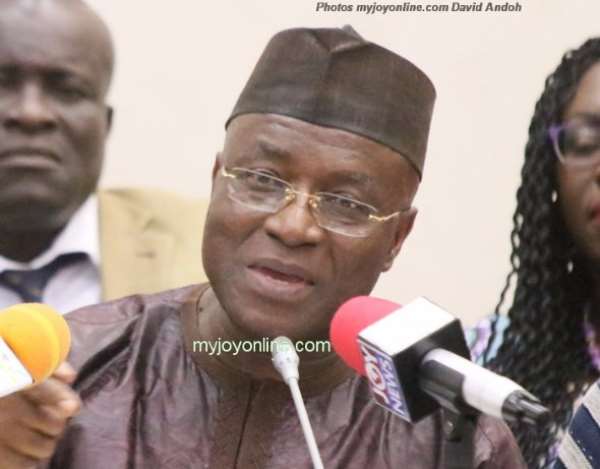 Minister responsible for Parliamentary Affairs, Osei Kyei Mensah Bonsu
The Minister responsible for Parliamentary Affairs, Osei Kyei Mensah Bonsu has cautioned the Auditor-General, Daniel Domelevo against the habit of going to town with findings of his audit report without recourse to Parliament.
His comments follow the war of words between the Auditor-General and some activists of the governing New Patriotic Party (NPP), over the indictment of Senior Minister, Yaw Osafo Maafo, in an alleged wrongful payment to Kroll and Associate for no work done.
At a media engagement between the Ministry of Parliamentary Affairs and members of the Parliamentary press corps, Mr Osei Kyei Mensah Bonsu who doubles as the Majority Leader, expressed concerns over the modus operandi adopted by Mr Domelevo.
According to him, the "naming and shaming" doesn't go down well in some cases where contrary evidence is later provided on allegations already made.
"In an established democracy, the Auditor-General is a tool for Parliament in the performance of our oversight responsibilities. It is for that reason that the constitution provides that whenever the Auditor-General has finished his work, the destination is Parliament. You submit your report to Parliament and Parliament must act on that," he said.
He further explained: "When Parliament has taken a decision on that, Parliament then rounds up civil society organisations and indeed media practitioners to enforce whatever they will uphold in the Auditor-General's report.
"But increasingly, we are finding situations where the Auditor-General after they finish with the work before they transmit it to Parliament, will organise press conferences and take some people to the cleaners.
"In many instances when the report has come to Parliament we find out that many times the Auditor-General has gotten it wrong and yet he has gone out there to scandalise and vilify personalities, what happens? This causes a bit of tension," he stated.
—Myjoyonline