Mathew Debrah Reveals Why He Will Be The Best Assembly Man For Nii-Okaiman West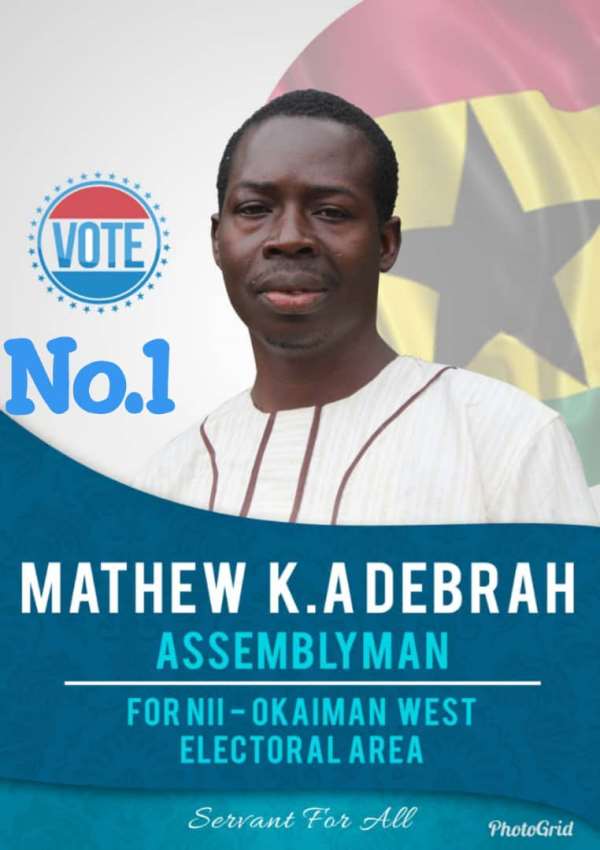 Ahead of the District Assembly Elections next week, Mathew K.A Debrah, an aspiring Assemblyman for Nii Okaiman West has opened up on why he will be the best man to head the electoral area.
According to Mr. Debrah who has been living in the assembly for over 17 years, he is committed to bringing development to communities that fall under his jurisdiction [Tabora number 6, part of number 3, Stars Junction, Asoredanho, Ankorfa, Bankyease, Santana], when elected.
Touching on why he is the best man for the job, the candidate shared that he supported the last Assemblyman for the area even before he met his untimely death.
After constructing two bridges to solve a longstanding problem in the district under the last Assemblyman, Mr. Debrah believes that is an indication of his ability to solve even bigger problems for his people and also bring development.
"I have stayed in the area for over 17 years and I have realized that we are lacking in several aspects as far as development is concerned", Mathew Debrah told Modernghana.
He continued, "Sometimes you walk around and you meet kids who are not in school. You will ask them why and they will tell you their parents say they don't have money. So I want to get to the Assembly and lobby some NGOs for funding to be used to help such children and all those in need.
"There is high youth unemployment here so I am hoping to get the nod at the end of the elections so that I can help the youth in my electoral area to also benefit from the opportunity that comes with project works".
In addition, he stresses that he wants to fight for disabled persons in his electoral area to benefit from the aid government provides to support such people in the various assemblies.
The aspiring Assemblyman has also assured that when voted into power, he will coordinate with the Police to improve police visibility in the area to ensure the security of the members of the communities in the assembly especially market women who have been attacked and robbed in recent times.
With less than a week to the District Assembly polls, Mathew Debrah has called on every eligible voter in the assembly to go out on December 17 and vote for him to bring development and progress to the electoral area.
Eric Nana Yaw Kwafo
Journalist