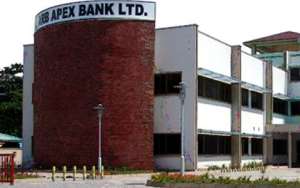 Chairman of the Board of Directors of the Citizens Rural Bank Limited, Dr Sam Asomaning, says the bank is liquid and stable despite the challenging environment it operated in 2018.
"Some rural and community banks faced deposit withdrawals as some of their investments locked up in investment and discount houses and were unable to access them. I am happy to report that though we also faced same we have largely recovered," he said.
Dr Asomaning made the remark at the bank's 10th annual meeting at Nsawam.
He said the bank put up a strategy and shunned risky investments thus it has no money locked up with any of the investment houses, which though affected the bank's profitability yet it was liquid and was able to withstand withdrawal shocks.
He said the bank's profit before tax decreased from ¢260,540 in 2017 to ¢83,276 in 2018, adding "The decrease in profit resulted from the decrease in deposits."
The Chairman said total deposits decreased from ¢6,671,914 to ¢5,880,820, which represented 10 per cent in 2018 and that this largely resulted from the factors already mentioned, which the bank had little control of.
"I am happy to say that due to conservative and prudent measures initiated by the Board the deposit situation has recovered beautifully in 2019," Dr Asomaning said.
He said loans and advances decreased from ¢4,204,767 to ¢3,634,261 from 2017 to 2018 respectively while assets fell from ¢8,339,362 to ¢7,658,120.
He said the bank was ranked 46 out of 143 rural and community banks in 2018 whilst at the end of the second quarter of 2019 it was rated 26 out of 144 by the Efficiency Monitoring Unit of the ARB Apex Bank.
"This shows the extent of our recovery from 2018 and from our internal data we expect the third-quarter results to be better," Mr Asomaning said.
He said the bank received official approval from the Bank of Ghana for its agencies at Adeiso and Kotoku and that it would continue with its cost-cutting efforts in a bid to increase profits while intensifying deposit mobilization.
Dr Asomaning said though 2018 was a very challenging year, the board and the management of the bank would strive to improve operational performance and expressed gratitude to the shareholders for their patience while urging them and the public to buy more shares to move the bank forward.
He asked the shareholders to furnish the bank with their TIN numbers.