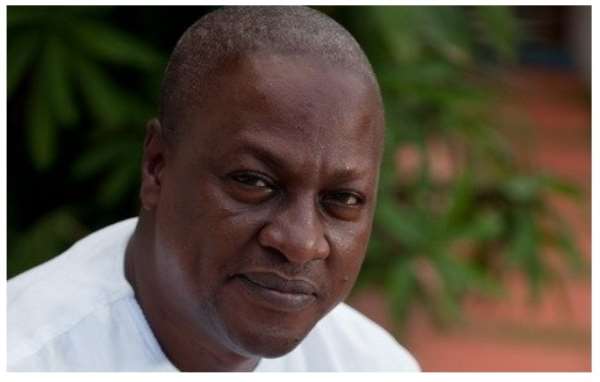 Improving and modernising agriculture was one of His Excellency John Dramani Mahama's flagship projects. A lot of resources and effort were put into agriculture his four years to reverse the trend where the drop in production of certain commodities led to their importation. His government's effort in agriculture achieved some significant successes. For example, Ghana spent a lot of its hard earned foreign exchange to import Rice, a whopping $467.2 million a year- that was how much the country paid for imported rice in 2013. But the efforts of the Mahama government , through financial and material support to farmers, saw the local rice cultivation increasing over 60 percent from 2014 to 2016.
As a result, Ghana rice import bill fell by a staggering 41 percent in 2014, from $467.2 million to $275.1 million. The nearly $200 million saved on rice importation was put to better use in other areas of the economy. The Mahama administration tackled huge rice importation by giving Incentives to local farmers to grow rice on mass scale. The administration's target was to make make Ghana self sufficient in rice production by 2020 and even have a surplus to export. Before leaving office, it was estimated that, based on production level at the time and annual demand for rice, Ghana's self sufficiency rate (SSR) was 53 percent. The administration's strategy was to reduce rice importation through an increased SSR, especially between 2016 and 2020.
In 2013, the government launched an agricultural machinery program to support rice production, with the assistance of a Japanese government grant facility. Under the program, over $3.3 million worth of agricultural machinery was imported, assembled, and distributed to rice farmers on flexible terms in six beneficiary regions -Greater Accra, Ashanti, Northern, Upper West, Upper East and Volta.
Additionally, 1000 farmers ( of whom 20 percent were female) were supported with credit facilities to acquire 900 metric tonnes of fertilizer, 90,000 litres of weedicides and 270,000 jute sacks for packaging. In 2015, over 9,000 hectares of land was targeted under the program to produce 27,000 metric tonnes of Paddy Rice. The Mahama government also supported another 10,000 farmers with 200 metric tonnes of quality certified seeds and 1,500 metric tonnes of fertilizer.
In 2016, the Mahama government started implementing the Ghana Agricultural Sector Investment Program (GASIP), which was meant to support agribusinesses that have the potential to create employment for the rural youth.
Another project the administration implemented under agriculture was irrigation. The administration placed high premium on building and improving irrigation infrastructure in the country. Thus in 2014, 9,400 hectares of land were irrigated, producing a total of 54,646 metric of rice, tomatoes, pepper, lettuce etc. The administration pressed ahead with the irrigation program using the Ghana Irrigation Development Authority as the catalyst. The major Irrigation of projects includes
- The Kpone irrigation scheme. The source of water is the Volta River/Kpong Reservoir with the potential irrigable land of 4,100 hectares.
-The Kpong Left Bank Irrigation project with a potential irrigable land of about 3,000 hectares
-The Tano Irrigation Scheme, located near Navrongo in the Upper East Region with a irrigable land of 2,680 hectares
-The Vea Irrigation Scheme, located near Bolgatanga in the Upper East Region with a irrigable land of about 2,680 hectares.
Under Poultry, under the Ghana Broiler Revitalization project, the Mahama government facilitated the production and processing of over 1,000 metric tonnes of chicken on a pilot basis, as part of a scheme to reduce the heavy importation of chicken by 40 percent by the year 2016. This target was achieved and saved the country $150 million that would have gone into chicken importation. The poultry industry received government attention. In 2014, the import substitution policy achieved a 30 percent drop in poultry import, from $208.7 million to $149 million. In 2015, an additional 200 poultry farmers received financial support as part of the broiler project.
Regarding livestock, the administration invested resources in credit in kind piggery and broiler revitalization project which aimed at increasing meat production. From November 2014 to mid 2015, a total of 3,130 small ruminants were supplied free of charge to 348 farmers across the country. In the second half of 2015, an additional 1,820 pigs were supplied to 455 farmers in the Western, Greater Accra, Eastern and Central Regions.
Regarding tree crop promotion, Mahama's first term saw the promotion and development of tree crops as part of its strategies to diversify exports. For example, under the Buabin Oil Palm Outgrowers Project in the Central Region, over 3,000 hectares of oil palm were cultivated by 986 farmers, while 4km of feeder roads in the area were rehabilitated by the government to facilitate movement. Also in 2015, a total of 7,884 hectares of rubber were cultivated by 1,800 farmers under a rubber out growers plantation project in the western and central regions. At Wrench and Bole, 220,267 cashew grafts were produced from government and private nurseries for distribution to farmers in more than 25 districts and a total of 1,907 cashew farmers were trained in cashew production and post harvest handling activities.