Strong NPP candidates from the East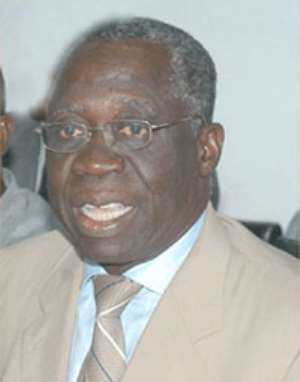 "I took you to HIPC and I brought you out… I took you to the World Cup and now I am giving you free education," this, shall we humbly submit, sums up "Oseadeeyo" Yaw Osafo-Maafo, former Minister of Finance and Economic Planning and currently Minister for Education and Sports. Simply put, he is an achiever, even if his proclivity is to self-blow it aloud. Based on this impressive record and a rumoured war chest of generous bundles of crisp Ephraim Amus, the man once voted best Finance Minister of the world, is plotting his way to the Castle and in a most patent, out-and-out and relentless way.
Impressive track record
Beyond his own impressive track record of achievement, he is banking on a growing albeit unhealthy perception that the next President must come form the Eastern Region and if not, the Central Region.
But, other Easterners challenging the bid of the Member of Parliament of Akyem Oda are known heavy weights from the Danquah-Busia tradition. One such awesomely rounded gentleman is Hackman Owusu-Agyemang, MP for New Juaben North, a Koftown boy with Ashanti roots.
Perhaps going by his threatened but short-lived intent to run in 1996, some observers have written the self-made Koforidua MP off too prematurely as not a front-runner for the NPP presidential nominations. But, that is most odd. If the UP tradition of joining the queue is based purely on loyalty and hard-earned and proven merit, then the Minister of Water Resources, Works and Housing is certainly in the top league. He could be counted as among the top three candidates in that order.
His unprecedented successful efforts in the history of this country since the First Republic to breath life into the ruling party's basic concept of property-owning democracy is a marked testament of his principle-based approach to life. Mr Owusu-Agyemang has the style, the stability, the confidence, the political intelligence, the modesty, the political stature and the money to upset those who are currently making the most noise. He is counting on the hope that those cacophonous contenders of the nouveau riche class cannot objectively count on any solid commitment from party delegates who have toiled over the years and remember those who toiled with them.
Mr Owusu-Agyemang may not have launched his campaign networking (unofficially) early but there's no doubt about his intent even though for a worldly man like him, to win is not a life and death situation.
He is facing very tough competition. Still, he has a lot going for him when you consider the man's excellent track record and popularity in the New Patriotic Party; not to mention his current ground work rate since he let lose his campaign evangelists on party delegates.
So far, the devoted Catholic's small but incisive campaign team has covered all but about twenty constituencies across the country. Their formula is not to hold big gatherings, though. And the response has been "more than encouraging," says a close observer. In fact our own independent checks show that he is one of the most trusted aspirants. The rank and file members feel they know him and he understands them in return.
This may stem from the fact that he has been there in the trenches right from the onset. As Assistant General-Secretary of the National Union of Ghana Students in 1963, Mr Owusu-Agyemang was one of the youngest victims of Nkrumah's Preventive Detention Act, even if it was for seven hours. Food and Agriculture Organisation But after two decades of outstanding international civil service with the Food and Agricultural Organisation of the United Nations, culminating as the Regional Bureau Chief for Africa in Rome, Italy, he returned to Ghana in 1989 to business and the business of politics.
One of those who put their money where their trunk was, his financial support over the years to his political party is noted by the fact that he served as Treasurer since the Friday Club days through the Danquah-Busia Club stage to the NPP and that even after he relinquished the post of Treasurer, he continued as the Chairman of the Finance Committee until 2001.
After serving his party and nation as MP on three successive terms, and Cabinet Minister since 2001, Mr Owusu-Agyemang believes it is time for him to work on being entrusted the responsibility to guard, guide and protect President Kufuor's legacy and build upon it with the kind of transformational and purposeful leadership that can take Ghana, first, to the middle ground between the first and third world, and, next, with such sustainable force to drive this nation and her people all the way to the top.
But, standing intimidatingly in his way is his fellow Cabinet Minister, Mr Osafo-Maafo, whose claim to the future in recent times has been encapsulated in the chiefly title, "Oseadeeyo" to reflect his record as a man who delivers, whether he promised or not. Oseadeeyo Thrice MP for Akyem Oda, Mr Osafo-Maafo's has grown in fearsome stature in recent years. Principled to a fault, his "Oseadeeyo's" title can be reversed into 'se ose onye a onye,' to wit his no can be stubbornly "no" as he demonstrated in 1992 when with an impressive record as a bank manager, he stoutly and steadfastly refused to accept "promotion" to the position of Governor of the Bank of Ghana, since the condition was his defection from the newly-born NPP to Nana Konadu's (P)NDC.
He suffered further punishment for that principled position when he was given the boot as MD of National Investment Bank which he had so efficiently turned around.
With a string of successful exploits in his bag, the Akora (former student of Achimota School) Osafo-Maafo, with a touch of unconvincing pretense, refuses to be drawn into any discussion (outside of his campaign trail) that he is gunning for the ultimate post in the land. However, he has perhaps travelled in recent times, much more than any of those in the line-up.
Those who thought his shuffle from Finance to Education was a slap in the face, soon found out that there was indeed a JSS in virtually every town in Ghana, giving the ambitious Minister a legitimate ostensible reason to force a head-start on the others as he toured the districts, not limiting his interactions to the pupils who do not qualify under Article 42 of the Constitution – the right to vote.
He has perhaps, since 2002, lost no opportunity to touch base with party activists, footsoldiers and executives in his search for the position as NPP Presidential Candidate 2008. He could be credited as the one who has forced and defined the pace for the race to succeed President John Agyekum Kufuor. A visit to his house on any week day attests to the hospitality that awaits any constituency executive who has chosen travelling to an aspirant as a hobby for the time being. His wife, perhaps in anticipation of a First Lady role, is rumoured to be enjoying the tutelage of the sophisticated Leonora Kyeremanteng on the fine intricacies of high society.
Reputed to have built a war chest over-flowing with the most basic weapons for party organisation, money, money and more money, he is also respected as a deep thinker and shrewd strategist.
It could not have been by sheer coincidence that one of his brothers was recently enstooled as a chief in the Assin area of the Central Region. Until then his roots were perceived to be traced to the Eastern Region only. UP tradition He certainly has not got the political history easily claimed by most of his serious contenders. Yet, what he lacks in antecedent with the UP tradition, Osafo-Maafo seems to have hurriedly made up as a top-notch Minister of State between 2001 till the present. "He has travelled so many miles, talked to so many people, smiled into so many faces, pumped so many palms and given so many positive assurances to party faithfuls in the past three years that I won't be surprised if he wins at a congress that were to be held today," was how an NPP activist summed up the activities and prospects of the man who has been appropriated the title given to President Kufuor by the Okuapehene two years ago, "Oseadeeyo."
Unfortunately for Mr Osafo-Maafo, the NPP Congress may be at least one year away, during which time a whole lot can happen and a whole lot has started to happen.
A brilliantly talented man from Awisa in Kotoku, who earned the nickname Medicus at Achimota School for his brilliance in Science, Mr Osafo-Maafo whose training as an engineer, traditionally did not position him to be so successful as a politician has braved all odds and demonstrated a utility character. He seems to have engineered more cedis, pounds sterling, dollars and finances than he has done to the metals and automobiles that he was trained to work on. In 1992, he became part of the framers of the Fourth Republic Constitution, having been elected to represent the Ghana Institution of Engineers to represent it. Mr Osafo-Maafo's contribution to the banking industry has been acknowledged in the sub-region where he was honoured by the West African Bankers Association in 1989. Best Minister of Finance The icing on the cake of honour came in 2004 with the decoration of "Best Minister of Finance," an award which provoked such storm that only his steadfastness stood him still.
He has overcome inflation, tamed the raging cedi, improved the macro-economic situation and stabilised the economy as Finance Minister. As Education and Sports Minister, he has brought on stream the Capitation Grant, increased enrollment in schools and taken Ghana to the World Cup after a small hitch en route at Egypt.
Hackman, for his part, may shy away from the front role of the choir of achievers, but he has achieved life-long hit songs of substance. This is a man, who never regretted after cutting short a PHD programme in agricultural economics at University of London to take a job with the FAO.
In 1972, within two years and at the youthful age of 31, he had risen to become the Vice-Chairman of the Staff Association of the FAO, even Acting as Chairman of the 5,000-odd-member association.
Five years later, as the Africa Regional Co-operation and Liaison Officer for the African Office of the FAO he masterminded the FAO/UN Regional Conference of African Ministers of Agriculture held in Arusha, Tanzania in 1978, known as the Arusha Conference. A few months after the conference, he was appointed by the Director-General of the FAO as his special envoy to go round to negotiate for opening of FAO offices in Ghana, Liberia and Gambia. After which he was made FAO Representative/Chief of Mission (Ambassador) in Zambia and later on to the Caribbean.
In 1987, Mr Owusu-Agyemang became Chief, Regional Bureau for Africa at the FAO headquarters in Rome, returning home after two years.
Going by his own assurances to very close associates, the MP for Akyem Oda certainly believes he is the man to beat. But, this is because he believes in the early bird adage. He has long nurtured the ambition to rule. In 1998, he commissioned Abeeku Dickson and other youth wing members of the NPP to conduct a survey on his chances, the results were not encouraging so he advised himself and left it to Messrs Kufuor, Akufo-Addo, Malik and Apraku, etc. President Kufuor But, the chance came when President Kufuor did not give him what he anticipated (Governor of Bank of Ghana) and bypassed Dr Apraku to hand the country's exchequer to Mr Osafo-Maafo.
His support base is seen strongest in the crowded Regions of Eastern and Central – from where his parents hail. He is also building allegiances in Western, and Northern where the two new stadia are under construction. Little wonder the very influential Alhaji Harunna Tia Sulemana, a contractor and owner of Harun Beans Company Ltd, Tamale, is now seen as working for the Osafo-Maafo bid. His weak regions are notably Ashanti (despite the support of former Ashanti Regional NPP chairman, F F Antoh), Brong Ahafo, Greater Accra and the two Upper Regions (which perhaps explains his growing courtship of Hawa Yakabu, NPP First Vice Chairperson. He is said to be offering his Veep slot to both her and Energy Minister Prof Oquaye, while courting Dr Apraku, as well!) While Mr Owusu-Agyemang appears to be trusted and admired by all, Mr Osafo-Maafo has a fine mix of those who are fully committed to him, those who fall for his generosity and those who simply see him as a man who can buy his way through the NPP but not the nation. Both are hardworking men, still, the Education Minister has so far worked harder in recent years specifically towards the top job and if football lovers constitute the majority of voters then The Minister of Education and Sports is there already, as for that one dea! But, women vote, too, and they outnumber men. Germany 2006 mania Osafo-Maafo is gaining big time from the Germany 2006 mania. He is the darling man of the fast-growing National Supporters Union of Ghana, which, thankfully, has branches throughout the country. Its members idolise him, if not for the prospect of a visa to Germany then genuinely for being an achiever at the helm of sporting affairs. He seems to have brought the touch of gold to the sports sector of his Ministry even though you cannot discount the tactical support of his Deputy, O B Amoah.
No doubt sports has made Osafo-Maafo very popular to the envy of other contenders to the point that the Foreign Minister on Tuesday started his Meet the Press with sports and ended on sports.
The Education Minister can count on some strong party movers. Former NPP General Secretary and current Information Minister Dan Botwe is so committed to Mr Osafo-Maafo that the younger man's own presidential ambition, as seen by several others, has been incarcerated by this alliance. Lord Commey, Dan Botwe's loyal lieutenant, is also a strong admirer of the Education Minister's presidential bid. Mohammed Amin Anta Mohammed Amin Anta, the Deputy Northern Regional Minister (a known Kufuor loyalist) appears to have been won over by Osafo-Maafo. Business man Alhaji Aminu, who used to be the Vice President's bosom friend, has fallen for the Osafo-Maafo charm offensive. Some of the Minister's rumoured loyalists include Kenwuud Nuworsu, Volta Regional Chairman and Yaw Amoabeng, Eastern Regional Chairman, who has gone out of his way to assure other candidates.
He is extremely close to Kofi Coomson, the Chronicle publisher, an alliance which makes many of his party loyalists unnecessarily but understandably nervous. But, as Mr Coomson said notably in a recent television interview, he is only one man and not God. He said this to a text message which suggested that the veteran journalist plans to shoot down all other contenders for the sake of his preferred candidate. But, Coomson himself intends to stand as MP on an NPP ticket.
When it comes to claiming roots within the party he seeks to lead into victory in 2008, Hackman has just a handful of challengers. He was part of the two committees that wrote the party's constitution and the manifesto for the 1992 election. It was in his East Legon house that the Elephant was chosen as the party symbol for the NPP. Those present included Kofi Konadu Apraku, Nana Addo Dankwa Akufo-Addo, Agyenim Boateng and Amoako Tuffuor.
He showed his firmness of mind when in 1992, against stiff internal opposition but with support from BJ da Rocha, he negotiated the purchase of the party's National Headquarters at Kokomlemle, Accra, for the cut-down price of ¢20 million.
Kaya Kaya
He qualifies as the quintessential role model for the majority of ordinary Ghanaians. The son of a Koforidua-based goldsmith and small market trader, he sometimes worked alongside his schooling as kaya kaya (Porter) at the Koforidua Railway Station to supplement the family income.
The prestigious St Augustine's College was to have tremendous impact on his life. It was there, at 16 years, that he, for the first time, wore slippers and sandals (Achimota Sandals).
Today, like a fairy tale, the poor boy from Koforidua has risen to the pinnacle of every parent's dream for their ward. His success in life is so apparent in his family, career, business and politics.
"I never had an easy childhood life, poverty was always part of the family and we had to work very hard to contribute our quota to the family budget," he remembers in his comfortable settee at his palatial East Legon mansion. The MP for New Juaben North is also former Minister for Foreign Affairs, and former Minister for the Interior, where he persevered to bring dignity to Ghanaian prisoners and a sense of worth and purpose to the boys in black. He is hard working. Mr Owusu-Agyemang is decisive and firm. Like him or hate him but he is a man of principle and conviction who would never let his friends, family or country down.
Married for over 40 years with five kids and 8 grandchildren, he understands stability as the foundation for success. It was perhaps with this in mind that he set up the Hackman Foundation to give a stable foundation for the poor in his constituency. The race is definitely on.
Next Monday: Alan Kyerematen vrs Kofi Konadu Apraku