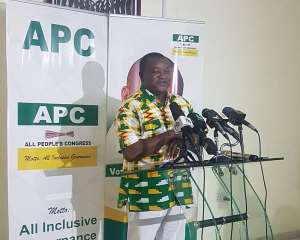 The Founder and Leader of All People's Congress (APC) Dr. Hassan Ayariga, has called on authorities to investigate into the Abrogation of the PDS scandal and prosecute all partakers of the corruption scandal that brought unto this national shame and disrepute.
He said, the All People's Congress Cautioned and Advised the good people of Ghana not to entrust the affairs of this nation into the hands of NPP and Nana Addo but Ghanaians heeded not.
He disclosed that the NPP said in opposition that they have the men to clean the mess created by the previous administration led by Former John Dramani Mahama, but for almost three years in government they have failed to show us those acclaimed men but on the other hand they have shown to us super incompetent Government, men of experience galloping corruption and clearing agents.
According to Dr. Hassan Ayariga, all matters relating to the termination of the Power Distribution Service (PDS) is a disgrace, disappointment, super incompetence and yet another exposure of an unprecedented Corruption among the numerous galloping corruption scandals.
"We are engulfed in this mess of PDS scandal because of the selfish interest of the friends and family Government led by President Akufo Addo thereby manipulating and misappropriating over GHS22 billion worth of ECG concessionaire agreement through a decision by Dr. Bawumia, Ken Ofori Atta and MIDA to change the precondition of a Bank guarantee into an Insurance Guarantee at a meeting held at the Jubilee House on 19th February, 2019 as captured on page 8 of the FTI report."
The government's negligence and failure to conduct the necessary due diligence on the supposed Insurance guarantee which was provided by PDS before handing over the GHS22 Billion assets of ECG to them.
Touching on Communication tax, Dr. Ayariga said Ghanaians are suffering under the NPP administration and it will even get worse if we don't vote them out in 2020. The 3% increase in communication service tax is unprecedented hardship in the country, is an indication that the Government of the day has nothing good to offer the good people of this country.
He said the upfront deduction of 9% tax from all top-ups by Telcos is unacceptable. "We cannot sit on the money and still be suffering when the vice President is still around to show us the money at the bank of Ghana (BoG) to ease the pressure on Ghanaians", he said.