Foreign NGO To Provide Mechanized Borehole For Dadease- Wankongya Returns Equipment Over Inaccessible Roads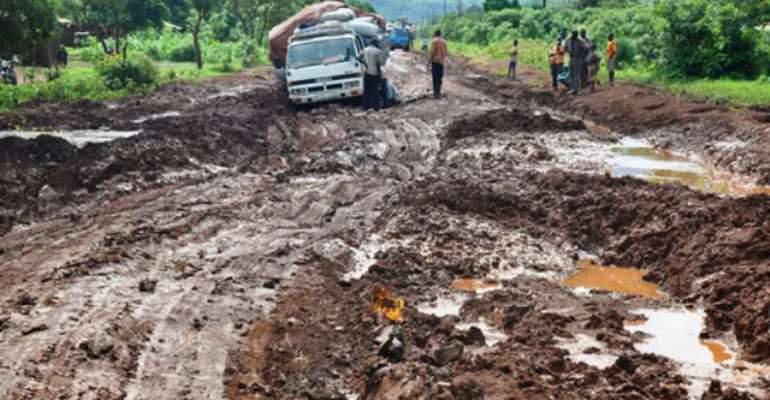 Oyerepa Fm based senior journalist, Mr. Kofi Adade also Assembly Member Hopeful for Dadease Electoral area in the Sekyere Kumawu District in the Ashanti Region suddenly 'fell sick' when an NGO he succeeded in getting its support to provide portable drinking water for Dadease-Wankongya community immediately returned upon seeing the bad nature of the roads which made them unable to connect to the community.
According to Kofi Adade, he succeeded in securing the said project to the deprived community through a dialogue he had with a foreign-based Non-Governmental Organization in the United States which has MAMA AFRICA as its local representatives but his dream was not materialized when the team from Mama Africa visited the community for works to begun.
Upon reaching the community, the Chief and elders of the community were made to understand that, they said NGO was ready to construct the mechanized borehole for the community but access routes to the community is the problem since their equipment needed for the construction work will not get to the community because of the bad nature of their roads.
According to them, they have sophisticated machines that will be needed for the construction work but the nature of the roads serving the community won't allow them access.
Speaking to Mr. Kofi Adade, the initiator of the project was disappointed about the move and called on the District Authorities, especially the DCE, MP of the area to help reshape the Dadease-Wankongya road to pave way for more developmental projects.
Nana Kwabena Ofore Atta, Chief of Dadease-Wankongya was not happy about the sad news and said both past and present governments have failed to address the needs of the community since the establishment of the community.
He indicated further that, most of the foodstuffs in the country are produced in his area and surrounding communities like Kwadeekrom and other areas but his community is totally deprived.
"No hospital, no toilet facility, no portable drinking water, and bad road networks has been the order of the day," he said with passion.