Daavi Ama Advises Prof. Gyampo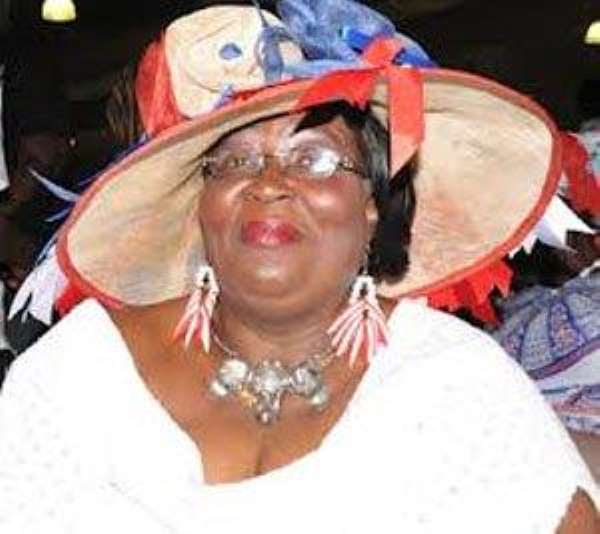 Madam Gifty Ayeh
Madam Gifty Ayeh, a former national treasurer of the ruling New Patriotic Party (NPP) popularly known as Daavi has advised beleaguered Prof Ransford Gyampo of the Political Science Department of the University of Ghana, Legon, to scale down on talks on air.
She said Prof. Gyampo must allow for the investigative machinery set in motion to adjudicate on the allegations made against him and one other Prof. Butakor, of the Education Department.
Daavi opined that since the BBC aired excerpts of its 'Sex for Grades' footage the Professor has been vociferous about his alleged innocence saying the investigation was in order.
"Prof. Gyampo, we are older than you so when we give you any advice at least try and ruminate hard on them and take the advice. Please stop talking, Prof. Keep quiet even if Aljazeera knocks on your door, say 'no, enough is enough'. I won't talk. Let UG do the investigations", she further counseled.
Daavi Ama admonishes Prof Gyampo to also learn to literally 'padlock' his mouth for talking too much.
Daavi Ama described Prof Gyampo as a very young, knowledgeable academic and a social media personality (socialite) who could suffer collateral damage if indeed he was found culpable of the 'Sex for Grades' scandal.
"Well, from what I watched so far, I don't see any incriminating evidence against the young, affable and vivacious Professor if the objective of the BBC research team was anything to go by.
"This is because there was no evidence of the Prof Gyampo being caught red-handed; nor was there an instance where he had influenced the Grade or Marks of any female student of his Political Science Department or in the University of Ghana, for undeserved academic favours," she intimated.
According to Madam Gifty Ayeh, the one that we saw was a love proposition and asked whether lecturers were forbidden from falling in love with former students, non-students and students not in their own faculties and departments.
She maintained that she knew of senior police officers who are married to colleague police women and "I know doctors who marry nurses as well as journalists who marry women they share the same offices with. So let's be careful," she counselled.
On the shoes that the Prof bought for the BBC researcher at the Accra Mall, Madam Ayeh argued that the girl did not request for it.
"Rather it was the Prof who said he wanted her to wear high heels whenever she came to visit him in the office, besides there was no suggestion of any attempt to sexually molest or assault the lady. The Prof only proposed to be the lady's "side- guy.
"Does 'side guy' connote rape or sexual assault," she asked rhetorically.
Source: The Punch Newspaper
Email: [email protected]