GES honours 21 teachers in W/R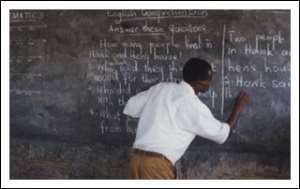 Takoradi, March 4, GNA - Mr Joseph Boahen Aidoo, Western Regional Minister, on Wednesday said a programme has been put in place to offer accelerated promotion and opportunity for teachers, who voluntarily opt to stay and teach in rural areas to pursue further studies. He was speaking at the Regional Best Teacher Awards Day at Takoradi. Mr Aidoo said already a deprived area incentive scheme for teachers, under which bicycles, radio cassette/players, cooking utensils were distributed to teachers under manageable terms of payment. He said these incentives were being given to teachers because of the burden to nurture and train children into responsible citizens. Mr Aidoo said the condition of service of teachers and educational workers have been enhanced through salary level adjustment and the payment of supervision allowances.
He said the government believes that teachers deserve proper and adequate remuneration and all would be done to ensure that the teachers and education workers enjoy full satisfaction.
Mr Aidoo said the truth was that, teacher's worth could never be quantified in monetary terms and everybody owes something to the teacher.
He said, "My appeal is that we re-adjust our values as was in days past, to enable us accord teachers the recognition they deserve". He said the education system must be strengthened, if the country was to achieve it goals, aimed at pulling the country out of its socio-economic woes.
Mr Aidoo said, "Throughout the ages, education has proved to be the safety exit to escape poverty and ignorance". He added, "Modern trends and the emergence of the global village mean that it is even more urgent that education plays a bigger role in our nation's affairs".
Mr Aidoo said the Regional Coordinating Council (RCC) would consider instituting an award for clean environment as an encouragement to schools and the general public.
Mrs Aku Kafui Fiakpornoo, Regional Director of the Ghana Education Service (GES) asked teachers not to see their postings to rural areas as a punishment and to regard themselves as agents of change in their schools and communities. She noted that the capitation grant has increased enrolment in schools and teachers would have to work harder. Twenty-One teachers and non-teaching staff of the GES were presented with awards at the ceremony.
They were presented with sound systems, refrigerators and gas cookers. 4 March 06