UK High Comissioner to quit?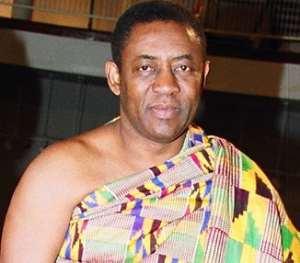 ... appointed to head COCOBOD Accra, Feb. 27, GNA - President John Agyekum Kufuor has appointed Mr Isaac Osei, Ghana's High Commissioner to the United Kingdom (UK), as the new Chief Executive of Ghana Cocoa Board (COCOBOD).
This followed the President's acceptance of Mr Kwame Sarpong's retirement from his position as Chief Executive of the COCOBOD. Mr Sarpong, therefore, proceeds on leave prior to retirement, a press release from the Office of the President and signed by his Secretary, Mr D.K. Osei, said on Monday.
It conveyed the appreciation of President Kufuor to the outgoing Chief Executive Officer (CEO) for the tremendous growth of the country's cocoa industry during his tenure of office.
It was under his leadership of the COCOBOD that Ghana's cocoa production increased dramatically from approximately 389,000 tonnes in 2001 to over 700,000 tonnes, the highest production level ever to be recorded in the country's history.
It was also to his credit that, an off shore syndicated loan of 850 million dollars was raised by the Board in 2004 for cocoa purchases. In addition, Mr Sarpong supervised major improvements in the payment of bonuses to cocoa farmers and a three-fold increase in the producer price paid to farmers.
The release said: "President Kufuor wishes Mr Sarpong well in his new endeavours."
The new Chief Executive of the COCOBOD, who holds a Masters Degree in Development Economics, was a former Managing Director of Intravenous Infusions Limited and had served as consultant to a number of United Nations Agencies.