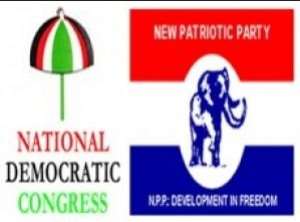 Anybody who thought, going into Election 2016, that then-President John Dramani Mahama was the man to beat must have been strung up high on cocaine or on any of the other locally banned substances. With Dumsor's having collapsed nearly half of all Ghanaian businesses, it is only somebody who was strung up high on hallucinogens who could reach the intellectually insulting conclusion allegedly reached by Mr. Emmanuel Victor Smith, the former Spokesperson for Chairman Jerry John Rawlings and the former Mahama-appointed Ghana High Commissioner to the UK. He may have also so soon forgotten the patent fraud that was SADA, the so-called Savannah Accelerated Development Authority, that was, by the way, shamelessly plagiarized from the National Development Agenda of the Akufo-Addo-led then main opposition New Patriotic Party (NPP) – (See "Victor Smith Reveals Why Akufo-Addo Is Still Alive" HotFmGhana.com / Ghanaweb.com 8/22/19).
Rather than blow hot air and gratuitously preen himself and his former boss, Mr. Smith ought to be comparatively analyzing the leadership and policymaking achievements of Messrs. Mahama and Addo Dankwa Akufo-Addo, and then objectively drawing up a balance sheet and telling us precisely why the former National Democratic Congress' Member of Parliament for Akyem-Abuakwa-North so self-assuredly believes that the Mahama Presidency was more successful than the present Akufo-Addo-led government of the New Patriotic Party. I mean, here we are with a leader who vehemently insisted, prior to Nana Akufo-Addo's visionary and savvy implementation of the fee-free Senior High School system of education, that the latter policy initiative was practically unfeasible and, at best, a quixotic adventure that woefully lacked common sense, now shamelessly claiming that the fee-free SHS System is, after all, a constitutionally mandated policy initiative that was written into the 1992 Constitution and, therefore absolutely no Ghanaian leader ought to take exclusive credit for the same.
So, the logical question here is this: Who and what prevented Messrs. John Evans Atta-Mills, late, and John Dramani Mahama from implementing this constitutionally mandated fee-free SHS system? You see, Dear Reader, after realizing the increasingly untenable position or stance that he had taken towards the Akufo-Addo-implemented fee-free SHS policy initiative, the now-Candidate Mahama then decided to bounce around something called "Progressively Free SHS Policy Agenda," whereby the sole determiner of who got to attend a fee-free SHS system, on a gradualist implementation plan, was the Commander-in-Chief of the Ghana Armed Forces. In other words, President Mahama himself. In the interim, those talented pupils from financially deprived familial backgrounds who could not readily or immediately be brought on board stood a great chance of losing out altogether and permanently so as well.
In other words, the difference between President Akufo-Addo and former President Mahama on the nation's education policy, is that Ghana's former Attorney-General and Minister of Justice is poised towards drastically reducing the level of illiteracy and the lack of employable skills in the country, whereas, practically speaking, the former Vice-President in the government of the late President John Evans Atta-Mills could not care less. This socially insensitive and politically irresponsible stance on the promotion of the education of the poor and destitute on the part of Mr. Mahama is absolutely no happenstance or pure accident. As an opposition leader during the tenure of the John Agyekum-Kufuor-led government of the New Patriotic Party, Mr. Mahama, together with then former Vice-President Atta-Mills, had vehemently opposed the universal healthcare policy agenda, vigorously championed by President Agyekum-Kufuor, that became known as the National Health Insurance Scheme (NHIS), as one that was practically unsound and unfeasible.
A decade later, the NHIS is still one of the best policy initiatives ever implemented by any Fourth-Republican government. And guess what, Dear Reader? This policy initiative was also implemented by a leader of the New Patriotic Party. To be certain, any studious observer of the Ghanaian political landscape would be hard put to point to a single socially responsible policy initiative undertaken by any leader from the National Democratic Congress that has survived the test of time. Instead, what has happened is that anytime that an NDC leader has succeeded another leader from the NPP, the predictable tendency has been for the NDC leader and his associates and minions to promptly and summarily scrap any social intervention or progressive programs bequeathed to these leaders and the nation at large, all in the cynical name of the retrenchment of excessive government expenditure.
The end result has been for these NDC leaders to exponentially increase their take-home salaries at the expense of and to the detriment of our underprivileged relatives and our national development. We all witnessed this with the Mahama-engineered scrapping of the Teacher-Trainee and Nurse-Training allowances. But, of course, Victor Smith is smack on point to observe the fact that had the now-President Akufo-Addo not won the 2016 Presidential Election, Ghana's former Foreign Minister and Minister for ECOWAS Integration (or Regional Integration) would have died as a direct result of a massive heart attack brought on by shock. But so would hundreds of thousands of Ghanaian citizens have also lost their lives at the thought of having a veritable nation-wrecker like Mr. Mahama tighten the noose of Dumsor-minted acute economic deprivation around our necks once more. God Forbid!
*Visit my blog at: kwameokoampaahoofe.wordpress.com Ghanaffairs
By Kwame Okoampa-Ahoofe, Jr., PhD
English Department, SUNY-Nassau
Garden City, New York
August 21, 2019
E-mail: [email protected]