Even in Politics, Mahama Is Not Classmates with Akufo-Addo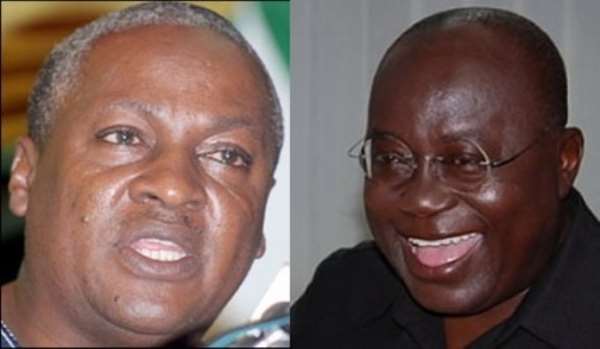 I usually don't spend much time, actually anytime, reading the sort of pointless back-and-forth that is the hallmark of rejoinders; but in this case, I have been forced to issue one of my own, after reading an article captioned Rejoinder: 'Mahama Sponsoring Kevin Taylor to Attack Rawlings – Bempah Alleges" (Modernghana.com 8/28/19). I would like to emphatically note here that I have absolutely no interest in the political activities of either Mr. Kevin Ekow Baidoo Taylor, the mudslinging rabidly anti-Akufo-Addo YouTube sniper, whom I also have absolutely no regard for, or Mr. Ernest Owusu-Bempah, the Konadu Agyeman-Rawlings partisan turned staunch ally of the Akufo-Addo-led ruling New Patriotic Party (NPP). What I am most interested in here is Mr. Kwame Addo's nauseatingly facile presumption of his political icon, former President John Dramani Mahama's claim of being an achiever who either plays in the same league or may be aptly reckoned to play in an even greater or higher league than President Addo Dankwa Akufo-Addo.
In terms of age, Nana Akufo-Addo is almost a generation the senior of Mr. Mahama, so there is absolutely no contest when it comes to the subject of academic achievement. To be certain, Akufo-Addo, who was contemporaries with the late President John Evans Atta-Mills and Akufo-Addo Senior Minister Yaw Osafo-Maafo, graduated from the country's flagship academy, the University of Ghana, when John Mahama was still a preteen. If the latter attended Achimota primary and middle schools, then Mr. Kwame Addo, the apparent Mahama fanatic, may do well to find out about the central role that Nana Sir Osagyefo Ofori-Atta, I (aka Nana Kwaku Duah), Nana Akufo-Addo's maternal grandfather, played in both the founding of Achimota and the Korle-Bu Teaching Hospital, Ghana's oldest and foremost civilian hospital.
What I am saying here is that Ghana's current President has a pedigree that Mr. Mahama could only fathom with raw envy. We must also underscore the fact that not only has Nana Akufo-Addo three intimate relatives among the members of the legendary Big Six Founding Fathers of Modern Ghana, Nana Akufo-Addo's own father, the late President Edward Akufo-Addo, a former Chief Justice of the Supreme Court of Ghana, was an Oxford University-educated Mathematician and Philosopher. Now, let Mr. Addo do us a dry run on the pedigree of his political icon and his ideological hero. We must also emphasize the fact that by the time that he decided to actively engage in national politics, first, as a Parliamentarian and Attorney-General and Minister of Justice and, subsequently, Foreign Minister and Minister for ECOWAS Integration, Nana Akufo-Addo had already established a formidable niche as a first-rate lawyer.
He may, indeed, have graduated from Legon with Third-Class Ranking in Economics, but both as a cabinet appointee and, now, President of the Sovereign Democratic Republic of Ghana, Nana Akufo-Addo has distinguished himself in ways that cannot be creditably said of Mr. Mahama. Indeed, Akufo-Addo may very well have been using his Third-Class knowledge in Economics from the University of Ghana to good effect, when he became the first Ghanaian politician and citizen to introduce the very first mobile/cellphone company into the country, according to the very public testimony of former President John Agyekum-Kufuor. And as President, Nana Akufo-Addo has demonstrated beyond the wildest imagination of Mr. Mahama that more than any other leader of Ghana's Fourth Republic, he has what it takes to facilitate a fee-free access of all able-bodied Ghanaian youths to any Senior High School (SHS) in the country that they qualify to attend.
Not only that, it was Nana Akufo-Addo, and not the self-preening "North Star," who resolved the seemingly intractable Yendi Skin Affair, entailing the barbaric decapitation of Ya-Naa Yakubu Andani, II, that literally threw the Dagbon State, the Second-Most-Powerful Traditional Kingdom in Ghana, into suspended animation for nearly two decades. You see, Dear Reader, Nana Akufo-Addo is a visionary leader of global stature, and not a shameless and scheming village street toughie like the desperate and megalomaniacal Second-Class History Student of Legon whose greatest achievement is using the name of the Sovereign People of Ghana to take bribes in the form of Ford Expedition SUVs, even while fatuously claiming that he was not even a fan of American cars.
*Visit my blog at: kwameokoampaahoofe.wordpress.com Ghanaffairs
By Kwame Okoampa-Ahoofe, Jr., PhD
English Department, SUNY-Nassau
Garden City, New York
September 14, 2019
E-mail: [email protected]