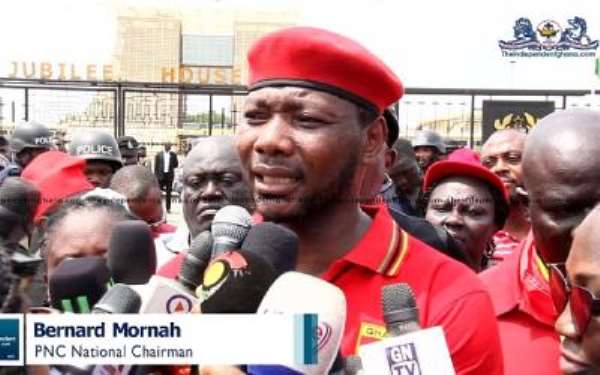 The Coalition for National Sovereignty has defy an order from the Ashanti Regional Police Command to proceed with its planned demonstration against government dubbed "Yeewu Demonstration" in Kumasi, Ashanti Region.
The group are protesting what they describe as insecurity, corruption and economic hardships that has bedeviled the country under the ruling New Patriotic Party (NPP).
Meanwhile, the Ghana Police in the region earlier in the morning issued a letter restricting the group from embarking on such demonstration.
The NDC General Secretary Mr. Peter Boamah Otokunor speaking on Okay FM accused the police of feeding the public with inaccurate information regarding the planned demonstration.
"We notified the police in series of meetings declaring our intentions and the police approved to supervise the exercise, so it's surprising for the police to keep coming back and fourth with this inconsistencies. This is ridiculous and the demonstration will go on, " he added.
He continued, "it will be better the police come out to let their stands known to the citizens of Ghana that the police are now working for NPP but not Ghanaians."
Otukunor further accused the NPP of using the police to sabotage their demonstration.
"How can the Regional Police Commander approve the exercise upon our request, he proceeds on leave and someone remote controls the 2nd commander from the Flagstaff House to bar us from demonstrating, " he emphasised.
National Convener for the Coalition for National Sovereignty, Bernard Monah said they served the Ashanti regional Police Command notice late 28th August of their intention to demonstrate.
"Unfortunately and unfairly, they just received a letter on the 17th of this month from the Police notifying them to stop the Demonstration for reasons we can't just understand," he stressed.
Nana Agyeinim Boateng ( Gyataba ), Founder and Flag bearer of United Front Party (UFP) and National Organizer for the Coalition for National Sovereignty lambasted the police for acting in such a manner.
He said it's unfair and unethical on the part of the police to go on such tangent and that there is nothingg that can stop them from exercising their constitutional right.