Nii Tetteh Oglie II, the Kpone Nmlitsakpo Mantse has appealed to the government through the Kpone-Katamanso Municipal Chief Executive, Soloman Appiah to as a matter of urgency come to the aid of the community by fixing the poor roads in the area.
According to Nii Oglie II, the main road linking the town from the Kpone barrier to the Michel Camp is in a very deplorable state begging to be repaired immediately.
"The major road leading to this community (I am referring to the main stretch from the Kpone Barrier to Michel Camp) leaves much to be desired.
"The stretch, which under normal circumstances could be completed in five minutes, takes 20 minutes or more to complete. The least talked about the inner roads, the better", Nii Oglie II noted.
Nii Oglie II made the appeal at the launch of the 5th-anniversary celebration of his ascension onto the throne of Kpone Nmlitsakpo at the forecourt of the Chief's palace over the weekend.
Nmlitsakpo was one of the villages of Kpone, the capital of the Kpone-Katamanso municipality, which has developed into what is known today as Saki. Seven communities including Saki, Golf City, Bediako, Bethlehem, Tulaku, Golf Estates and Community 25 constitute the Nmlitsakpo Township.
Speaking at the launch, Nii Oglie II admitted that the government alone cannot shoulder all the developmental agenda of communities across the country.
Consequently, he noted he is doing whatever he could to get his people to solve some of the problems themselves.
He stated; "In my own small way, I have been holding meetings with executives of the various Residents Associations in the community to work hard to properly organize their members so that we can come together to fix the inner roads for ourselves".
The Nmlitsakpo Mantse also touched on the sanitation problems affecting the community, saying he has come out with a time-table to aid the residents to use communal labour to clean their environment.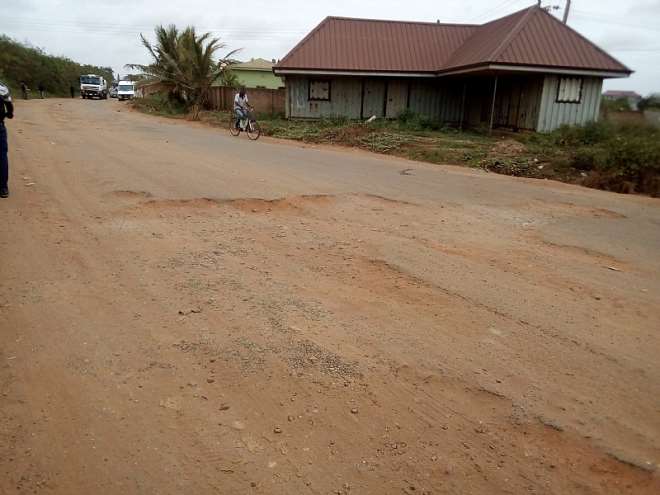 A Portion Of The Kpone Barrier-michel Camp Road