NHIS To Sanction Service Providers Who Charge Unapproved Fees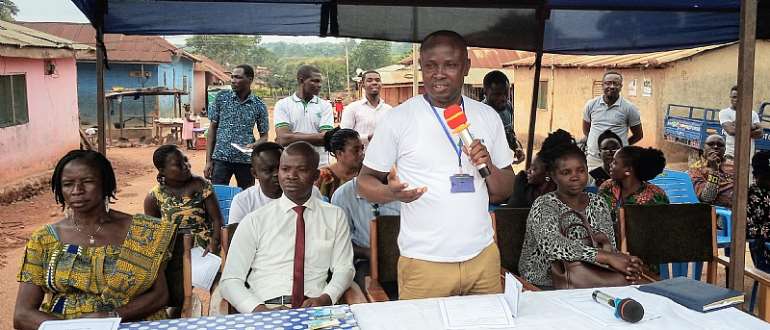 Authorities of the National Health Insurance Scheme will soon be taking punitive actions against some health service providers for charging unapproved fees from members of the scheme.
This follows continuous complaints by a lot of NHIS members that some service providers charge them for certain services which are supposed to be covered by the scheme thereby raising questions about the legality of such fees being charged.
The Sunyani Municipal Manager of the Scheme, Maxwell Mahama stated these at a community durbar organized at Atronie near Sunyani to sensitize the residents about the rights and responsibilities of NHIS members and the seven steps in renewing membership using mobile phones.
Mr. Mahama expressed grave concern about some service providers who allegedly charge clients unapproved fees and said the scheme would have no choice than to take legal action against culprits if they did not put an end to that practice.
95% of diseases covered by NHIS
According to the Municipal NHIS Manager, the scheme was introduced to ensure that access to health services would be less stressful without any financial constraints, adding that the scheme covers 95% of all the various diseases mainly reported at health facilities in the country.
Under the scheme, he said, all pregnant women are supposed to enjoy free ante-natal services throughout their pregnancy and some months of post-natal services.
Mobile phone renewal
Touching on the use of mobile phones to renew NHIS membership, Mr. Mahama said the introduction of this technology has brought great relief to the staff of his outfit as a large number of people that used to besiege his office is now a thing of the past.
As a result, staff are able to attend to only the registration of new members swiftly and also deal with other issues in a more efficient manner, adding that the scheme has been able to register 152,113 new members this year alone.
Increased access to health care
The Physician Assistant in-charge of the Atronie Health Centre, Michael Kwadwo Addai disclosed that from January to June 2018 when the facility was not admitting NHIS card holders, only 200 people visited the health centre to seek medical treatment.
However, this figure has since shot up to 10,000 following the decision by the facility to accept NHIS card holders and advised chemical shops in Atronie to partner with the NHIS to enable them to administer medicines to members of the scheme.
Mr. Kwadwo Addai noted that the NHIS has over the years played a critical in the provision of good quality health services to people.
Richard Kofi Boahen
Brong Ahafo Regional ContributorPage: RichardBoahen