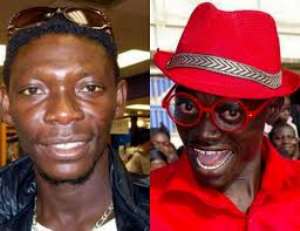 Popular Ghanaian actor, John Dumelo, will lose miserably the Ayawaso West Wuogon Parliamentary race in the upcoming 2020 general elections, Director of Communications at Ghana Gas, Mr. Ernest Owusu Bempah has said.
Mr. Dumelo was elected as the National Democratic Congress (NDC), parliamentary candidate for the Ayawaso West Wuogon constituency with 758 votes and is hoping to win the seat currently occupied by the New Patriotic Party (NPP) for the past years.
The actor, with his youthful exuberance is convinced he will win the hearts of constituents majority of whom are the youth.
But speaking on Hot FM today, the Director of Communications for Ghana Gas, believes the NDC would have given the NPP a run for their money if Kumawood actors like Lilwin, Agya Koo or Akroboto were elected to represent the NDC.
"John Dumelo wants to be a Member of Parliament, he will laugh at the wrong side of his mouth. He is leaving in a fictitious environment and does not understand the realities of life. Lilwin, Agya koo, or Akrobeto would have been a threat to the NPP in Ayawaso West Wuogon if they were elected to represent the NDC because they are more popular and will do a better job.
"Dumelo creates kingdoms that do not exist in his movies. He does not believe in Ghana because his movies do not tell the Ghanaian story compared to Kumawood actors," he said.
According to Mr. Bempah, it will be politically unwise for any political party to elect a 'character' like John Dumelo as parliamentary candidate.
"The NDC has become cheap and characters like Dumelo have been sponsored by Mahama to take up positions. The NDC is now been controlled by Mahama and if you are not in his camp, you will be kicked out," he alleged.
Mr. Ernest Owusu Bempah indicated that 80 percent of NDC members are not happy with the election of actor John Dumelo as the Parliamentary candidate for Ayawaso West Wuogon Constituency.