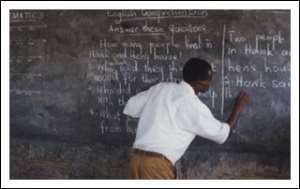 ... in protest against defecation classrooms Gyankobaa (Ash), Feb. 14, GNA - Teachers at Gyankobaa, near Toase on Monday boycotted classes and marched to the Atwima-Nwabiagya District Education Directorate at Nkawie to lodge a protest against the persistent defecation in the classrooms, school premises and destruction of properties by some residents.
Led by the headteacher, Madam Mary Asampana, the teachers complained bitterly about the inhuman acts of the perpetrators, who had spread human excreta on the teachers' tables and chairs, pupils dual desks, blackboards, walls and littered books and other teaching and learning materials with faeces.
The community, the teachers complained, had turned deaf ears to their plight after several appeals and that the defecation was the sixth this term and the 17th since the beginning of this academic year. Madam Asampana said the community has turned the school premises into a funeral ground and constantly disrupted classes. Nana Kwasi Doku, regent of the town, who followed the teachers to the education office, condemned the act and said it was a shame and disgrace to the community.
He said the School Management Committee (SMC) and the Parent-Teacher- Association (PTA) have mounted an intensive surveillance to arrest and hand over the perpetrators to the police.
Nana Doku pleaded with the directorate not to close down the school and promised to find a lasting solution to the problem. Mr Eddy Obeng-Darko, the Atwima-Nwabiagya District Director of Education, was not happy about the rampant reported cases of defecation in classrooms in the district and called on all well-meaning citizens to condemn the act.
He, however, advised the teachers to resume classes in the interest of the pupils, while a permanent solution was found to the problem.
Mr Obeng-Darko asked the chief and elders, SMC, PTA and other stakeholders to institute measures that would not only protect the school infrastructure and other facilities but also protect the security and safety of teachers.