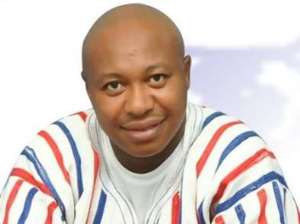 This week, a group calling itself the COALITION OF CONCERNED SYMPATHIZERS ACROSS CENTRAL REGION has published an article tilted 'LEAVE EKOW EWUSI ALONE'. In the said publication the group mounted a spirited defence of the embattled 1st Vice Chairman of the NPP in the Central Region, HORACE EKOW EWUSI, who is accused of being an ex-convict and lying about it and also a fraud.
This group points to:
'an attempt by some unscrupulous persons within the party hiding behind one unscrupulous petitioner to unscrupulously tarnish the hard won reputation of our cherished Regional 1st Vice Chairman Horace Ekow Ewusi".
They go further to highlight the achievements of Ekow Ewusi to include:
Sixty cars for the youths of the region to be used for taxi is unprecedented,
Ten buses to be used for Trotro to raise resources for the beneficiary constituencies is unprecedented,
Twenty three laptops to help Communication Officers to propagate the achievements of the NPP government is Unprecedented.
Twenty Three motor bikes for the Constituency Communication Officers to help with their communication within the region is unprecedented.
Twenty Three motor bikes for the Constituency Youth Organizers across the region to help with party work is unprecedented.
A pick up to the Regional Nassara Coordinator to help with mobilization of votes within the zongos of our region is also unprecedented.
Renovation of School Buildings across the Country.
Provision of over 10,000 dual desks for distribution to Schools across the country.
An obvious question that no one is asking albeit pertinent is how is an individual like Mr. Horace Ekow Ewusi
get the money to finance such large and flamboyant show of apparent benevolence?
How much is this man paid as the 1st Vice Chairman of the Central Regional Branch of the NPP or the leader of the anti-Galamsey group for him to be able to afford to make these expenditures?
Are the national executives of the NPP so blinded by money that they refuse to even consider the allegations made about this individual? Are they saying they cannot prove the veracity of the allegations by contacting the British Authorities? Legend has it that party members are falling over themselves in long queues outside Mr Ewusi's office for cash handouts.
Are there no good people left in this country who are prepared to stand by the truth or pursue it? I weep for Ghana! And as for the NPP, THEY ARE IN NO WAY DIFFERENT FROM THE NDC OR ANY OTHER SELF- INTERESTED AND CALLOUS POLITICAL PARTY ON THE AFRICAN CONTINENT!
For once Sammy Gyamfi, despite all my disagreements with him, was right in questioning the source of wealth of the NPP's 1st Vice Chairman in the Central Region.
Emmanuel Penny- Freelance Journalist [email protected]