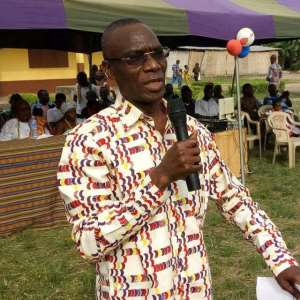 The Ranking Member on the Education Committee of Parliament and Member of Parliament for the Akatsi North Constituency, Hon. Peter Nortsu-Kotoe has called on the Muslim communities to desist from pushing their teen daughters into early marriages.
He asked them to give a better life to their girl child by enrolling them in school to become useful citizens in the country.
He intimated that Zongo communities across the country are deprived, and the best way to changing the narrative, is to have children from Zongo communities attaining higher standards in the area of education; calling for much focus for the girl child.
The MP made the call when he joined the Ave-Afiadenyigba Zongo on Sunday for Eid Prayers.
"Each of the times we met you've always asked for an additional classroom block for the Islamic school. Thankfully, we have awarded the contract for the building of that facility and work would definitely begin at the beginning of September.
"Let me however note that, the facility if completed, would have to be occupied by your children and it is important you send all these young ones to school, that's the only way we can put the facility to use," he stated.
He urged them to dump the culture of giving out their young daughters into marriage and secure their future by sending them to school.
"It is also important you desist from giving out your daughters into early marriage, it jeopardizes their future. I am by this extending the call for you to make the education of your daughters a paramount issue. They can also become lawyers, doctors, teachers and big time personalities in the future.
"If they're educated, nobody can swindle or deceive them and that's also the best way of alleviating the poverty level of our Zongo communities", he added.
Ghanaian Muslim communities gathered yesterday to offer Eid prayers in commemoration of the 2019 sacrificial Eid-Adha.