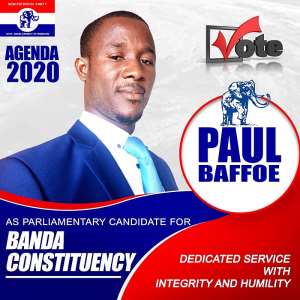 An aspiring NPP parliamentary candidate for the Banda constituency in the Bono region, Paul Baffoe says considering the good works of the Akufo-Addo led government, he stands tall in snatching the Banda seat for the NPP come 2020.
In this regard, he is calling for the support of party delegates to give him an overwhelming victory during the forthcoming primaries to put him in the right position to galvanize more support for the party to massively win both the Presidential and the Parliamentary elections for the NPP in the next general election.
Speaking to the media after submitting his nominations form at Banda Ahenkro, Mr. Baffoe called on party executives in the area to give the party a new direction to enable it grab the seat in the 2020 parliamentary elections.
He stressed that the Banda constituency fully supports the Bono Regional NPP target code-named Agenda 12 over 12 which translates as winning all the 12 seats in the region for the NPP in the 2020 elections.
According to him, the Agenda 12 over 12 could only be realized in the Banda constituency if the party select a visionary person who is also capable of mobilizing the grassroots to lead the campaign in an area being occupied currently by the Deputy Minority Chief Whip, Ahmed Ibrahim.
In addition, Mr. Baffoe stressed that NPP in the Banda constituency needs a humble servant and not an engineer of monetization and "Big English" speaking.
The seat he indicated is not difficult to be snatched for NPP, but the buck stops with a candidate who is in good terms with the traditional leaders and the residents of the Banda constituency.
He, therefore, anticipated for the party executives to elect a party person who has the strength, the will and ability to create cordial relationships with the chiefs and empower the youth to ensure NPP secures power come 2020.